Comparing Metal Barn and Pole Barn Construction
This is the third part in our series on pole barns vs. metal buildings. First, let's get the terminology straight. Many people use the term "pole barn" or "metal pole barn" to refer to a metal building. However, a "pole barn" is actually a wood-framed structure. Steel-framed barns and other structures are usually built with pre-engineered metal building systems. So now that we know the difference, which is better between a steel frame vs wood frame barn?
Steel Frame vs Wood Frame Building Packages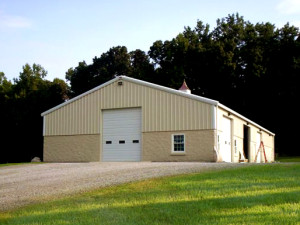 Both pole barn and metal barn kits generally include all framing materials, sheathing materials, and fasteners. However, the quantity and quality of contents do vary from company to company, so be sure to get a complete list of what is included with the kit.
All RHINO Steel Building Systems orders come with three sets of metal barn plans, plus an anchor-bolt layout. The plans are engineer-stamped, and include a letter of certification. Every order also has a detailed construction manual and DVD.
On the other hand, many pole barn companies include little or no documentation with the package. And instructions tend to be minimal at best.
Assembly of Pole Barns vs Metal Buildings
In a steel barn package, every component of the framing is cut to length, welded into shape, drilled and punched for easy assembly, and clearly marked for identification.
A RHINO metal barn assembles in a systematic, logical order, much like a giant erector set — just follow the simple metal barn plans and easy directions.
Most pole barn kits do not pre-cut the lumber to length, nor do they mark the individual pieces of the kit.
Fewer Pieces, Stronger Structure with Metal Barns
When comparing steel trusses vs wood trusses, the choice is clear. Steel frame buildings require far fewer pieces to build a strong structure. Steel barns erect by connecting two columns together with two rafter beams to form a "frame." Frames attach to a slab foundation, concrete perimeter wall, or concrete footings with strong steel anchor bolts. Typically, these steel frames are spaced 20'-25' apart. Pole barns, however, normally space posts and trusses 8' apart. That means far more pieces are needed to build a pole barn. In fact, pole barns require ten or more pieces to produce a "frame," comparable to the metal framing system. Steel's superior strength means only four steel components are required for each frame in prefabricated metal barns and steel buildings. Furthermore, the larger your building, the more time will be saved with steel construction over wood construction.
Steel Frame vs Wood Frame Resiliency
When choosing between a steel frame vs wood frame building, it's important to consider how it will hold up over time. Wood pole barns use nails and truss plates to assemble the main building framing and trusses. As moisture content in the wood framing changes, the lumber contracts and expands. This constant movement makes nails pull out over time. The pole framing will "loosen" and sag.
With steel, there's no need to worry about warped framing. Steel barns and other metal buildings connect with high-strength bolts and self-drilling screws. The components of a steel building are unaffected by temperature or moisture changes. Steel barn framing goes up straight and stays rigid for decades.
RHINO also uses special fasteners for the Galvalume roof and wall sheathing with a lifetime warranty against rust. The sealing washers included with these screws assure a watertight seal against leakage.
Call Now for More Information about Steel Barns and Metal Buildings
RHINO's experienced steel building specialists are capable of answering all questions concerning the benefits and downsides of steel frames vs. wood frames. Ask for a fast, friendly quote today. Call us at 940.383.9566.
Related Blogs:
• "So What's the Difference Between Pole Barns and Steel Barns?"
• "Which Is the Better Buy— Pole Barns or Metal Barns?"