The Pros and Cons of Field-Welded and Pre-engineered Steel Buildings
Internet chat rooms are filled with consumers trying to decide between weld-up and bolt-up metal buildings. Almost without exception, those responding advise choosing a pre-engineered bolt-up steel building system. (One man in Arizona reported building two steel hangars— one weld-up and one bolt-up. He said the weld-up hangar almost shook apart in high winds that did not faze the bolt-up hangar.)
So what are the differences between the two structural steel connection methods?
Weld-Up Steel Buildings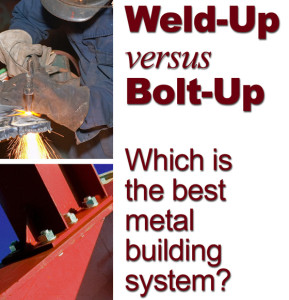 Weld-up— or field-welded— steel buildings are fabricated at the job site.
The steel framing is usually made of steel pipe bought locally. Every piece of framing must be measured, cut, and welded by the builder, including the trusses.
Bolt-up Steel Buildings
Professional designers and engineers create the plans for bolt-up metal buildings, adhering to local building codes and load requirements.
Trained fabricators and welders manufacture every component to exacting engineering specifications. Every column, rafter, girt, and purlin is cut, welded, punched, and marked. The framing package arrives ready to assemble with high-strength steel bolts.
The Advantages and Disadvantages of Each System
COST:
Depending on the quantity and source, initial material costs may be somewhat less on weld-up framing materials. However, the speed and simplicity of erecting a pre-engineered bolt-up steel building more than offsets any difference in material costs.
QUALITY:
A metal building's strength is only as good as the strength of its structural steel connections. How do you know the Bubba you hired to field-weld your framing knows his stuff? RHINO's bolt-up steel framing comes from AISC-certified factories, with rigid quality controls and highly trained professional welders and fabricators.
PERMITTING and INSPECTIONS:
Weld-up buildings have no engineering behind them. The framing materials come without manuals or instructions. Permitting will be difficult to impossible in many places. Every weld must be individually inspected, tested, and approved— an arduous process. RHINO's bolt-up metal buildings come with three sets of engineer-stamped plans, making permitting simple and easy. Local building codes are pre-engineered into the structure. RHINO buildings meet or exceed all local building codes for the lifetime of the structure— guaranteed. Weld-up steel building can make no such promises.
TIME:
Weld-up framing materials can usually be purchased and delivered within a week. Because time and care goes into the design, engineering, and fabrication of RHINO bolt-up steel buildings, the building package normally delivers four to six weeks from the order date.
REPAIRS:
When weld-up steel buildings suffer damage, repairs can only be made by cutting out the broken framing and patching in steel. It is a challenging process. If a bolt-up steel building incurs damage, it is easy to unbolt and replace the damaged framing with like components from the manufacturer. There is no cutting, welding, or punching required.
CONSTRUCTION:
There are no shortcuts to erecting a labor-intensive weld-up building. Every piece of the framing is hand-cut and welded on site. Pre-engineered, factory-made components for a bolt-up steel building go together quickly and easily. RHINO supplies a detailed instruction manual and a construction DVD for the do-it-yourselfer and the professional building erector.
REMOVAL:
Once erected, a weld-up metal building offers no options for moving the structure to another location. Bolt-up steel buildings can be disassembled and reassembled at a new location, if required.
Bolt-up Buildings Provide Durability and Limitless Possibilities
RHINO's prefabricated bolt-up metal buildings offer a wealth of options. Add mezzanine floor systems, skylights, overhead doors, gutters, vents or insulation to your order. Choose from a range of steel panel colors. Add cool-coated roof panels to your kit. Or, if you prefer, choose stone, brick, stucco, block, glass, or other traditional exterior building styles to your structure.
The sizes, heights, and spans for your pre-engineered building are practically limitless. Bolt-up metal buildings offer large, unobstructed interiors for hangars, warehouses, manufacturing plants, and agricultural buildings, where needed.
Weld-up steel buildings cannot provide such freedom of design.
Please call RHINO now at 940.383.9566 to learn more about our bolt-up, prefabricated building products. Let's discuss your structural steel connections in detail and provide you with a free quote.