The Importance of AISC Certification to Metal Building Buyers
The quality of a pre-engineered steel building ultimately rests with its fabricators. Poor steel building manufacturers produce sub-standard, problem-filled structures. Steel building fabricators with vision use stringent quality control systems to produce durable, dependable, problem-free metal buildings.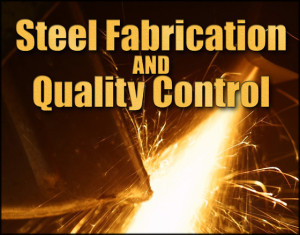 Want assurance your steel building order is fabricated by quality-conscious professionals? Order from an American Institute of Steel Construction (AISC) Certified fabricator.
AISC: A Brief History
In the early 1900s, no standards for steel fabrication existed. Every company did their "own thing" without basic quality controls. Chaos ruled.
Industry leaders sought to set fabrication and ethical standards.
Then America entered the "Great War" (World War I) on April 6, 1917. Major steel companies created a War Service Committee to organize the fractured and fractious individual steel companies to aid in the war effort.
After the war, the War Service Committee reorganized as the National Steel Fabricators Association (NSFA). In 1921, NSFA members wrote the first charter and by-laws. They also changed the non-profit organization's name to the American Institute of Steel Construction (AISC).
Ninety-four years later, the AISC continues working to promote quality steel construction.
Since 1923, AISC has provided the steel industry with "Standard Specifications for the Design, Fabrication, and Erection of Structural Steel Building."
During World War II, technical committees in the AISC developed steel methods, which conserved critical alloys need for the war effort. In recognition, the U.S. Department of the Army bestowed AISC with the Distinguished Service Award.
Today, the International Building Code used throughout the United States includes all the AISC standard specifications.
AISC Steel Building Fabrication Certification
Auditors from the AISC's Quality Management Systems division provide— or deny— certification to steel fabricators and erectors. The extensive criteria for certification covers every aspect of the steel building manufacturing process, including:
• Contract reviews
• Data and document flow
• Detailing
• Employee training
• Equipment calibration
• Handling and storage
• Inspections
• Internal audits
• Management responsibilities
• Material identification
• Purchasing
• Quality record controls
• Testing
• Welding and other processes
The same standards uniformly apply to all fabricators— regardless of company size or facility capacity. The evaluation process is arduous and lengthy. Once AISC Quality Certification is achieved, annual audits assure the plant continuously maintains compliance.
In the long run, steel building fabricators benefit from completing the rigorous certification process. Production mistakes cost money. Stringent quality control eliminates those mistakes, reducing costs. Greater quality control and proper employee training actually increases productivity.
According to AISC, "Our goal is to build quality structures from the start by focusing on error prevention rather than error correction."
What Does AISC Certification Mean for You?
Only half of the structural steel fabrication plants in the U.S. currently rate AISC Certification. Without that certification, you cannot be sure of the quality or consistency of the structural members in your steel building package.
Missing components, mismarked structural parts, shortages, damaged framing, or structural errors are a nightmare in the field. Erectors must either wait for another shipment of replacement parts, or try to improvise a solution in the field.
Delays cost money.
Choosing the most reliable metal building source just makes sense.
All RHINO Metal Buildings are Produced in AISC Certified Factories
RHINO ships from multiple fabrication plants across the U.S. Every RHINO building ships from an AISC Certified factory.
At RHINO, we are determined to provide the highest quality product and service in the metal building industry. Why? Because we want your return business. Only if you are thoroughly satisfied with your RHINO experience can we expect to hear from you again.
We not only sell steel buildings, we forge relationships.
Want to know more about the RHINO Difference? Please call us now at 940.383.9566 for information on our quality steel construction for help finding an AISC approved fabricator.