Customizing the Exteriors of Pre-engineered Metal Buildings
Steel buildings do not have to look like steel buildings. There are many ways to enhance the exterior of a structure to lose the "boxy" look of a metal building.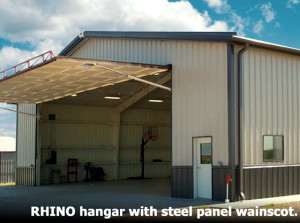 In parts one and two of this series, we offered suggestions for changing the roofline and profile of a steel building to create a more traditional look. The versatility steel buildings doesn't stop there.
Any exterior building material available for other building systems will also work with pre-engineered steel framing.
Steel Panel Exteriors for Metal Buildings
Most of RHINO Steel Building System's customers with agricultural, industrial, and storage applications choose our standard 26-gauge purlin bearing roof (PBR) steel panels for cladding. The panels are attractive, economical, and durable. Available in a variety of colors, steel exterior panels and trim offer many choices for the buyer.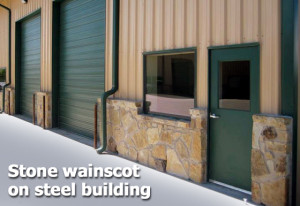 Buyers may purchase optional gutters and downspouts in colors to match trim. Also available are 24-gauge standing seam roof panels and highly reflective "cool coated" steel panels.
Steel Panel Wainscoting
One very economical way to "dress up" a steel building is to add steel panel wainscoting. A metal wainscot is simply a contrasting material added at the bottom exterior wall, usually about 3-1/2' to 4' in height.
Using Traditional Exterior Finishing Materials with Steel Buildings
Choose any exterior building material used with other building methods for pre-engineered metal buildings.
Planning an office complex with a brick exterior? Build it with steel.
Is your next project a medical building with a stone exterior? Build it with steel.
Building a motorcycle dealership that requires a glass-walled showroom? Build it with steel.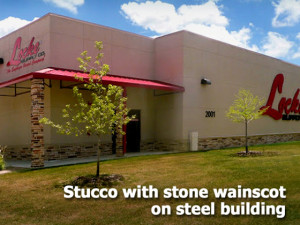 Want a stucco exterior of a Mexican restaurant? Build it with steel. Or perhaps you are planning a steak house with a rustic wood-planked appearance? Build it with steel.
Stucco, brick, stone, steel panels, glass, tilt-up concrete, concrete block, wood, or exterior insulation and finishing systems (EIFS) can all be used to create the perfect look for your commercial or residential steel building application.
Add a wainscot for contrast, choose to cover only the front wall of the structure with a different finishing material, or cover the entire building in your material of choice.
Build it stronger. Build it better. Build it with steel.
Think outside the box. Let your imagination soar with RHINO Steel Building Systems.
Start now. Call RHINO today at 940.383.9566. Find out just how affordable your dream building project can be.