Steel Buildings in Alabama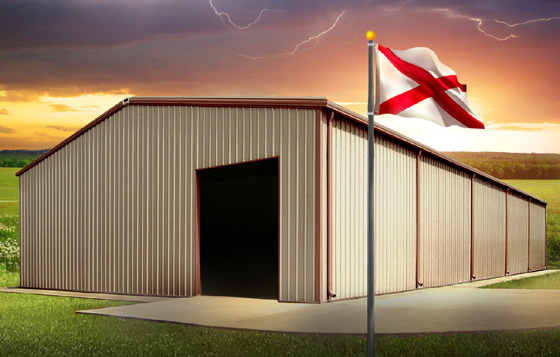 If you're in the market for Alabama steel buildings, RHINO Steel Building Systems is the perfect option for your project. RHINO's durable steel is made to withstand Alabama's weather conditions for the lifetime of the structure, and our customer service is the best in the business.
Advantages of Metal Buildings in Alabama
Alabama's position on the Gulf of Mexico keeps the climate humid and moist. All that muggy air contributes to mold and mildew problems. All mold needs to flourish is high humidity and an organic material like wood to feed upon. But RHINO's Alabama steel buildings can handle humid conditions.
First, steel is inorganic and does not support mold or mildew growth. Furthermore, RHINO's ventilation systems prevent moisture buildup with walk-in doors and overhead doors that provide air circulation. Vents can also help keep the air flowing. You can choose 3' x 3' louvered endwall vents or 9' x 10' ridge roof vents to limit interior humidity.
Insulation also provides protection from moisture buildup for your Alabama steel building, keeping the interior cool during Alabama's hot, sticky summers. Our Pro-Value Insulation Package can slash utility bills by 50% and decreases condensation, with added heat protection and energy savings when you choose cool steel roof panels.
Alabama is also one of the only places that suffers through two distinct tornado seasons each year: once in spring, and again in November and December. RHINO builds Alabama steel buildings that resist destructive winds and debris, and you can choose features like wind-rated doors, a lower building profile, minimal openings, and brick exteriors to provide the most tornado protection possible.
Call RHINO for Alabama Steel Buildings
When it comes to metal buildings, Alabama chooses RHINO Steel.
We offer the highest quality metal buildings for sale in Alabama, but we also provide top notch customer service that our customers return to again and again. Today 30% of our orders come from repeat buyers and referrals from happy customers.
Speak with one of our metal building specialists today by calling us at 940.383.9566 to get started on your Alabama steel building.