Why Steel is the Environmentally Preferred Choice for Hangars
Steel aircraft hangars remain the best "green" choice when constructing an eco-friendly home for jets, planes, or helicopters.
That is good news for aircraft hangar owners, who already overwhelmingly build with steel. No other building material allows the wide expanses needed by aircraft hangars like steel framing does.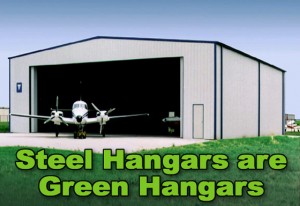 With the highest strength-to-weight ratio of all construction materials, only steel can create obstruction-free building interiors. Aircraft maneuverability requires the clear span designs and the soaring ceilings possible only with super strong steel aircraft hangars.
Pre-engineered metal buildings also provide the fire resistance so important for aircraft.
Volatile aircraft fuels create a real safety concern. Hangar fires spread quickly in wood structures, as the lumber provides more fuel for the blaze.
Steel never adds fuel to a fire. The non-combustible nature of steel helps reduce the chance of catastrophic structural fires.
In fact, most commercial-grade steel structures and hangars earn lower insurance rates, based largely on the non-combustible nature of steel.
Why Metal Aircraft Hangars are the Green Choice
Pre-engineered steel aircraft hangars promise eco-friendly construction. Building a metal hangar reaps environmental rewards for the planet, the pocketbook, and the pilot and crew.
Most Recycled Material on Earth: Nothing matches the recycling record of steel. The steel industry recycles 80 million tons of steel each year in the U.S. alone.
All new steel now contains recycled steel.
Steel is no Johnny-come-lately to the green building bandwagon, either. North American iron and steel makers began recycling metal over 150 years ago.
Greenest Building Material: Based largely on its exceptionally high recycled content, steel earns high marks from green building experts.
LEED (Leadership for Energy & Environmental Design) awards steel buildings an automatic minimum default on its point system— the only structural material so honored.
The U.S. Green Building Council proclaims steel framing "the logical and responsible choice for Green Building."
Sustainable Steel: Since it is 100% recyclable, there is no waste when recycling steel.
Steel is the only material that never loses any strength when recycling. The same steel can be reborn as new steel countless times— and be just as strong as the original virgin steel from which it came decades ago.
Energy Efficient: Hangar owners in extreme climates should consider adding an insulation package, like RHINO's Pro-Value Insulation System. Owners and operators cut utilities in half in climate-controlled hangars using the Pro-Value package.
In hot weather environments, reflective cool-coated steel panels reduce cooling costs by as much as 15%.
No Out-Gassing: Surprisingly, metal aircraft hangars and buildings are actually healthier than wood framing.
Steel buildings promote better indoor air quality, because steel never outgasses like composite wood products.
Inorganic steel never supports or promotes mold, mildew, or rot— common problems in wood-framed structures. Nor does a metal frame ever need termite treatments with noxious chemicals.
From an air quality standpoint alone, steel buildings make more sense than wood. Every structure framed with steel instead of wood means more living trees on our planet. Trees remove airborne pollutants, swapping it for the life-giving oxygen they emit into our atmosphere.
We all breathe easier with more steel structures and less lumber-framed buildings.
Reducing Waste: Steel's superior strength permits engineers to produce stronger aircraft hangars with far less material than traditional building methods.
Where wood framing places exterior studs 16-inches apart, pre-engineered steel framing inserts steel columns every 25-feet.
All the building components for a pre-engineered metal hangar arrive prefabricated and ready to assemble, eliminating wasted materials— and wasted labor. Every piece of the framing comes already cut, welded, punched, painted, clearly identified, and ready for easy bolt-together assembly. Pre-engineered steel hangars shrink construction time by 33%.
When a steel aircraft hangar reaches the end of its lifecycle, the steel lives on. Recycled once again, the steel framing becomes aircraft parts, automobiles, bridges, cans, containers, appliances, ships, submarines, trains or other useful items. Who knows? The hangar might even live again as another environmentally friendly steel aircraft hangar!
RHINO Steel Aircraft Hangars
Building green hangars starts and ends with RHINO Steel Building Systems.
The RHINO name is well established as the premier steel building brand. Every aspect of a RHINO steel aircraft hangar provides just the right combination of quality and economy.
While competitive, RHINO metal aircraft hangars contain many features not commonly found with other building systems. And size is not an obstacle for RHINO building systems.
RHINO supplies hangar doors in several styles including sliding, vertical lift, and bi-folding. Door options include manual, electric, or hydraulic lifting systems. Insulated doors are also an option. Wind-rated hangar doors with up to 145 mph wind resistance are available.
RHINO offers hangar customization for overhead cranes, cupolas, and mezzanines. Steel aircraft hangars can be engineered to accommodate solar panels, too.
We also pride ourselves on having the most helpful customer service team in the industry. Our very experienced metal building specialists provide the expertise you need every step of the way.
For more details about building green steel aircraft hangars, speak to a RHINO steel building specialists now. Contact RHINO at 940.383.9566.
Ask for a fast, free quote. We can also supply design tips for your hangar, airfield office, shade shelter, or other aircraft support building project.