Protecting Whirlybirds with Sturdy Metal Hangar Buildings
Fun, functional— and fragile— rotorcrafts require the exceptional protection of pre-engineered steel helicopter hangars. No other building system guards helicopters and other aircraft as well as a durable steel prefab hangar.
Why Steel is the Only Sensible Choice for Helicopter Hangars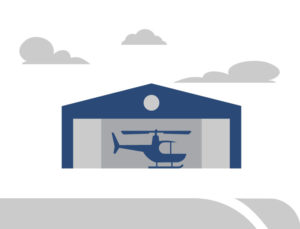 To create the lift needed to fly, choppers must be extremely lightweight.  The endless vibration of a helicopter in flight takes its toll on these incredibly maneuverable machines.  Consequently, helicopters require diligent maintenance— and heavy-duty protection.
Pre-engineered metal hangar buildings offer the best protection at the best possible price.
RHINO metal prefab hangars are durable, waterproof structures for all types of rotorcraft, gliders, jets, and other aircraft. 
A RHINO Prefab Hangar: The Ultimate Protection
Designed to withstand Mother Nature at her worst, RHINO buildings promise built-in resistance to earthquake, fire, lightning, snow, termites, and wind damage. 
Because RHINO commercial-grade steel helicopter hangars are non-combustible, you can expect significant savings on your insurance premiums, too.
Metal Hangar Buildings Benefits
RHINO helicopter hangars offer the benefits chopper owners appreciate most:
Unobstructed space— RHINO hangars promise clear span, column-free interiors up to 300' wide.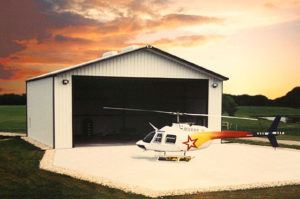 Towering heights— Choose hangars up to 42' at the eave height on a standard RHINO hangar design.  Even taller structures are available with additional engineering.  Taller hangars allow ample space for a variety of aircraft— and leave room for two-story offices, kitchen space, or pilot and personnel quarters.  Unlike Quonset-type arch-shaped metal buildings, RHINO hangars supply maximum usable space.
Limitless lengths— Pre-engineered steel buildings and hangars can achieve any length required.
Watertight protection— RHINO's fasteners with built-in sealing washers, die-formed ridge caps, sealed eave closures, and formed-based trim keep the hangar dry in all types of weather.  Extra-tough 26-gauge purlin bearing rib (PBR) rust-resistant steel panels create a strong, durable exterior. 
RHINO also offers even stronger 24-gauge standing seam panels.  Standing seam panels eliminate the need for screws to penetrate the roof material at all, for even better waterproofing.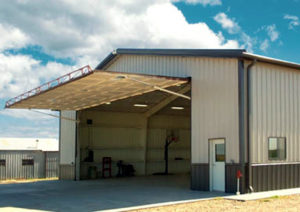 Strong hangar doors— Choose from a wide selection of hangar doors styles, including sliding, vertical lift, and bi-folding hangar doors with manual, electric, or hydraulic lifting systems. 
RHINO hangar doors are available with certification up to 145 mph wind resistance.  Insulated doors are also an option. 
(RHINO's most popular hangar doors are the 45' and 60' wide hydraulic lift doors.  Even larger doors are available.)
Bolt-together system— No welding, cutting, drilling, or painting is necessary with a RHINO hangar.  Our pre-engineered system decreases construction time by about 33%. 
Experienced do-it-yourselfers often opt to erect the structure themselves with smaller hangars and buildings.
Bird-proof ceilings— Unlike truss-type buildings, RHINO's rafter-and-beam rigid-steel buildings offer no place for birds to rest or nest overhead, fouling your chopper, equipment, or your crew!
Building a Hangar that Suits Your Specific Needs
Customize your helicopter hangar with overhead cranes, cupolas, mezzanines, vents, gutters, or skylights and wall lights— whatever you need to make the building ideal for your helicopter or other aircraft. 
Choose from an array of exterior panel colors and trim.  Finish the exterior with stone or brick accents for an upscale look.
Conclusion
 Keep your rotorcraft, glider, or fixed-wing aircraft safe from the elements with an affordable, long-lasting, low maintenance RHINO prefab hangar. 
RHINO Steel Hangar Buildings
When building a hangar for your aircraft, you can trust RHINO Steel Building Systems.  All our metal buildings are guaranteed to meet or exceed all current local building codes for the lifetime of the structure. 
RHINO ships competitively priced steel helicopter hangars and aviation support structures all over North America. 
For more information or a free, no obligation quote, call RHINO now at 940.383.9566.
 Experience The RHINO Difference in metal hangar buildings. 
(Updated 7-7-2021.  Originally published 9-20-2016.)