The Majority of Churchgoers Still Attend Small Local Churches
While new stories about swelling megachurches dominate the headlines, small churches actually dominate church attendance. Without fanfare or recognition, local community churches quietly and continually serve their congregations and communities.
The press seems fascinated by the huge numbers garnered by metropolitan megachurches. People are left with the impression that megachurches— those with 2,000 or more members— represent a shift in church attendance. Not so.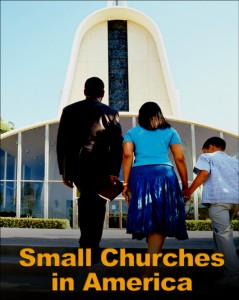 The Hartford Institute for Religion Research estimates there are 350,000 religious congregations in the U.S. Megachurches represent less than one-half percent of the total number of congregations. Approximately 59% of weekly worshipers attend congregations with less than 100 members.
Current data puts the average church membership at 184. The massive numbers of the megachurches skew those average church memberships.
Looking instead at the median church membership rather than average, presents a truer picture of church attendance today. Median numbers put typical church memberships at 75 to 90.
Why Small Churches Still Dominate
The reasons someone chooses a particular place of worship are myriad and intensely personal. However, there are some universal advantages to attending small churches.
CONVENIENCE: While not a particularly spiritual consideration, a convenient location draws people to the local church. Traffic hassles, gas prices, and parking problems sometimes discourage people from attending churches with a long commute.
SENSE of BELONGING: There is a reason regular worshipers refer to the congregation as their "church family." Smaller churches provide a greater sense of belonging and community. It is easier to feel a part of smaller group, where everyone knows and supports each other. Many megachurches seek to overcome the feeling of being lost in the masses by forming small Bible study groups to support and encourage one another on a more personal basis. Other megachurches have large congregations meeting at multiple locations, linked by video feed.
TRADITION: Some worshipers grew up in smaller churches where multi-generational families attended. Worshiping in smaller church is an ingrained habit. A smaller, closely-knit church setting feels more comfortable for traditional churchgoers.
Whether you attend church in a small country sanctuary or a gigantic megachurch arena is a matter of personal choice. The size of the congregation or church building is immaterial. Finding the church that best serves you— and where you can best serve others— is the priority.
Church Buildings of All Sizes
Is your congregation contemplating construction of a new sanctuary, adding classrooms or a youth center, or in need of storage for church buses?
Regardless of the size of your church's building project, RHINO Steel Building Systems is the wise choice. RHINO has supplied many churches with strong, durable steel churches and auxiliary buildings.
RHINO can supply the perfect steel church structure at a budget-friendly price.
Talk to RHINO's steel building specialists about your next church project. Call 940.383.9566 today. Learn more about churches and religious auxiliary buildings built with the strength of steel.