Building Efficient Garages with Pre-engineered Steel Buildings
In the automotive repair business, providing service technicians with a roomy, well-lit, comfortable workplace is essential to productivity.  It also helps reduce turnover of trained personnel. Our prefab steel garages excel in creating a cost-effective structure for a cost-efficient business.
Auto Repair Shops Save Money with Energy-Conscious Metal Buildings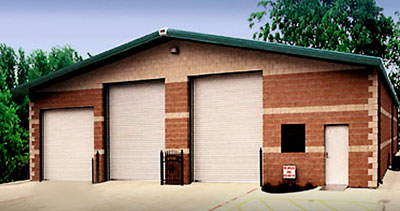 Rigid-frame red-iron columns and roof rafters create deep cavities.  Deeper cavities allow room for extra-thick insulation.
In a particularly mild-weather location, where only the office and customer waiting room need air conditioning and heating, top-of-the-line insulation decreases energy bills significantly. Upgrading insulation on steel car garages slashes the utility bills even more in weather-extreme areas where the mechanics bays are also climate controlled.
Garage owners who opt for RHINO's Pro-Value insulation package save as much as 50% heating and cooling bills.  That makes a RHINO structure a doubly "green" building— a boost to both the bottom line and to the environment.
The Pro-Value Package includes a vapor barrier liner made from a fabric over 300% stronger than normal steel building facing.  The vapor barrier delivers an extra defense against condensation.  It also supplies a much brighter, lighter interior.
RHINO Metal Building Panel Options
RHINO's 26-gauge steel purlin-bearing roof panels (PBR) furnish an extra overlap where two panels meet.  The additional overlap improves waterproofing and creates a much stronger connection between panels.  Standing seam steel panels are also available.
In locations with brutal summer heat, even greater energy savings are possible with the optional "cool-coated" PBR panels.  These amazing steel panels, layered with a high-tech paint, reflect 40% to 50% of the sun's heat.  Cool-coated panels trim another 7% – 15% off summer utilities.
If location or preference demands a more traditional exterior, brick, stone, block, glass, tilt-up concrete or any other material may be used for the exterior finish.
The Pre-engineered Metal Building Advantage over Web Truss Construction
Another little plus for the better insulation and vapor barrier: there is no place overhead for birds to perch or nest.  Birds love to frequent garages, leaving "evidence" of their visits on the customer's vehicles, garage equipment— or the unfortunate personnel.  Open-web steel framing trusses in other metal building systems are an invitation for to birds to enter through open overhead doors.
For an auto service structure, marine repair service, truck repair shops, tire store, or for any other commercial or industrial metal building, a RHINO prefab car garage is sure to bring years of trouble-free service.
For more details, please call now at 940.383.9566
.