Fire Safety: One Reason Most Garages are Built with Steel
One of the best reasons to choose a pre-engineered steel building for an auto garage is the fire resistance of steel.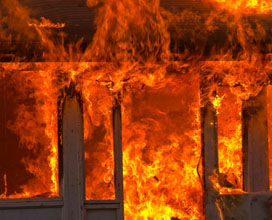 Auto repair shops, tire shops, truck servicing business, and the like are very dangerous places for fires.
The National Fire Protection Association (NFPA) collected fire data for retail operations for five years. During that time, 6,360 structural fires were reported. Automotive sales and service and gas stations accounted for 2,290 of those fires. Three civilians died in the auto industry blazes and 83 more were injured.
Steel is non-combustible, obviously an especially important feature for car repair garages. If a fire does occur, wood framing simple acts as handy fuel for the fire, but steel framing does not feed a fire.
Reduced insurance rates are often possible on a steel-framed building.
Steel Buildings Go Up Faster
Pre-engineered metal buildings assemble easily since all the pieces are prepared, cut to length, welded, drilled and punched at the factory. Everything arrives ready to assemble, a great timesaver at the job site.
Steel is strong, so it requires far fewer framing pieces than a wood-framed structure.
Pre-engineered Steel Buildings are Eco-Friendly
Steel is a green building material. More steel is recycled every year than any other material. The same steel can be recycled countless times without losing any of its characteristics. Framing for a building might include recycled steel from:
Junked cars
Dismantled bridges
Discarded appliances
Retired ships
Demolished skyscrapers
Scrapped railroad cars
Or perhaps hundreds of dog food cans— the steel industry recycles over 19 billion steel cans each year
Steel Buildings Are Versatile and Durable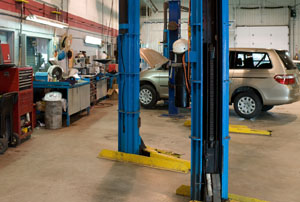 Prefabricated steel buildings are affordable, durable, attractive, and versatile. Their beauty and value will last for decades with little or no maintenance. They are strong enough to stand up to harsh weather extremes, voracious termites, earthquakes, and deadly lightning.
Whatever your vision, RHINO can customize a prefab metal building for you.
Available options include skylights, vents, roof ventilators, insulation, panels, trim, gutters, and more. The exterior appearance of the structure can be steel panels in a wealth of colors, or brick, stone, stucco, or wood.
RHINO Buildings Ship Fast Across North America
Delivery is usually possible within five to seven weeks order. RHINO ships from multiple points across the U.S. to every state, Mexico, and Canada. All our steel framing and steel panels are manufactured with high quality commercial-grade steel.
Ask today for a free RHINO quote for an auto service facility— or for any other metal building you made need.
Call one of our friendly and helpful steel building specialists now at 940.383.9566.