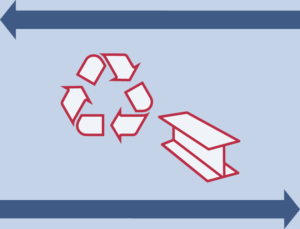 When choosing steel buildings for agricultural, commercial, industrial, rural, or suburban use, the price is often a primary concern. However, the environmental impact of the construction material should also be considered. Make no mistake — American consumers really do care deeply about environmental issues. According to a recent Gallup poll, 73% of Americans admit they worry about the "quality of the environment."
After studying all the framing material options and their ecological qualities, many people ultimately decide a prefabricated red iron steel building kit like a RHINO steel building is the "greenest" way to build.
Steel is the most recycled material in the world today.
Did you know that steel is actually the most recycled material on the planet? The World Coal Association reports that total steel production increased 69% in recent years.
One reason for the high recycling rate of steel is the ease with which it can be removed from the solid waste stream with giant electromagnets. All other recycled materials have to be sorted by hand, which is a slow and expensive process. Additionally, while wood, plastic, and paper all lose strength when recycled, steel can be recycled indefinitely without any loss of its inherent properties or strength.
Prefabricated RHINO red iron metal buildings are manufactured with commercial-grade steel containing a high content of recycled steel. Think about it — your new building package could be made from retired ships, crushed automobiles, railroad cars, a few old refrigerators, and a washing machine!
Steel is abundant and economical to produce
It takes only two man-hours or less to produce a ton of steel. For wood, however, nature needs 80-125 years to grow a Douglas Fir to only 18" in diameter. A 2,000 sq. ft. building can be framed with the steel produced from recycling a few junked cars, while a wood-framed building of the same size requires 50-60 trees to be sacrificed to produce the framing. Clearly, red iron construction is a far more economical option than traditional wood framing.
Prefabricated red iron steel buildings reduce waste
The EPA estimates that 136 million tons of construction and demolition materials are dumped into American landfills every year. As much as 40-50% of this material is concrete and mixed rubble, with lumber comprising another 20-30% of landfill waste.
Constructing with RHINO red iron steel building kits, however, substantially reduces such waste. All red iron building materials are cut, welded, drilled, and marked at the factory for simple bolt-together erection. Secondary metal framing components are then applied with self-drilling screws. What little waste accumulates at a steel framing jobsite can be sold as scrap metal.
RHINO metal buildings can be very energy efficient
Equally critical in determining the "green" quality of a building material is examining its long-term energy usage.
Metal is a better conductor of heat and cold than wood. However, a steel building system with a high-performance insulation package easily overcomes any transference problems. Because the wall cavity is much deeper in a rigid-frame steel structure than a typical 2×4 wood or galvanized steel frame, thicker and more energy-efficient insulation can be used.
RHINO's Pro-Value upgrade insulation package provides up to R-30 wall insulation and R-49 ceiling insulation, which usually consists of a second layer of insulation between purlins to create a thermal break. Environmental concerns aside, who wouldn't like lower heating and cooling bills? Many of our customers have reported saving as much as half on their energy bills.
Over the years, wood framing loosens and shifts, creating air leaks and drafts around windows and doors. However, RHINO red iron steel buildings remain tight over decades, drastically reducing air leaks as the structure ages, saving even more energy in the long-term.
RHINO's metal buildings are virtually ageless
Steel buildings maintain their structural integrity, beauty, and value for decades to come. A RHINO structure won't require periodic expensive repairs to combat that "tired" look so often associated with aging traditionally-constructed buildings. Our red iron metal building kits are designed to be virtually trouble-free.
Let's get serious about saving our environment
Are you really serious about doing your part to protect the planet? If so, why would you build with anything else but a prefab red iron steel building system? Whether the project is a storage building, barn, garage, riding arena, shop, retail store, manufacturing facility, industrial plant, office building, or a mega warehouse, the green building choice is clear: build it with steel.
You can trust that RHINO offers the best red iron buildings for sale on the market. Speak to a trained Steel Building Specialist today to receive a free estimate on one of our red iron buildings or to place an order. Call us at 940.383.9566.