Tips for Reducing Your Prefab Steel Building Costs
In addition to the money-saving ideas in our Building Metal Structures for Less and Save Money on a Steel Building blogs, here are more methods for lowering your metal building costs.
Metal Building Costs and the Budget-Minded Building Buyer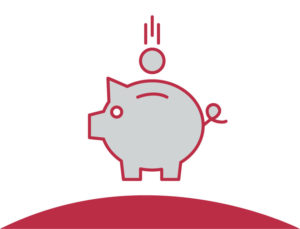 Always begin with quality pre-engineered metal buildings.
It never pays to settle for a cut-rate building to save a few dollars. In the end, you will definitely regret buying a cheaply made metal structure.
A well-made metal building provides decades of useful service. It also enhances the resale value of your property.
However, even with a top-of-the-line product from a reputable vendor, there are other ways to reduce your metal building construction spending.
Tip #1: Do Your Homework
Know exactly what you want before you place your steel building order.
How much space do you really need? Buying more building than you actually need drives up your construction costs.
Keep unnecessary modifications to a minimum. It saves money, time— and great aggravation.
Making changes after the order is in the works also wastes time and money. Change orders are not only expensive, but also delay your project.
Tip #2: Choose Options for Pre-engineered Metal Buildings Wisely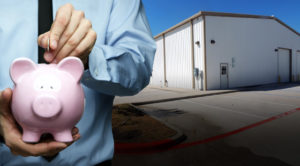 RHINO Steel Building Systems offers many wonderful options to customize and accessorize your prefab metal building.
RHINO steel building options and upgrades include:
Gutter and downspout systems
Insulation packages
Interior wall panels
Mezzanine systems
Overhangs, eave extensions, and canopy configurations
Overhead doors and entry doors in various sizes and designs
Pipe flashing boots
Roof and wall vents
Skylights and wall lights
Standing seam, architectural, and cool-coated roofing panels
Wainscoting
Determine which options you really need— and which ones you do not. Eliminating unnecessary bells and whistles moderates your metal building costs.
Tip #3: Plan Now for Later Expansion
Pre-engineered metal buildings are simple and easy to expand— if you plan for expansion in advance.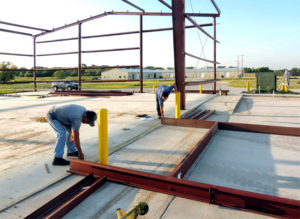 First, steel building endwalls should be engineered for later expansion on your order.
Secondly, locate your building on the lot so that there is plenty of room for later expansion.
To keep metal building pricing to a minimum on a smaller lot, consider ordering a taller structure. A soaring ceiling allows you to add a mezzanine floor system—now or later—converting your building into a two-story structure and doubling your space.
However, be sure your foundation contractor knows in advance that you may add a second floor in the future. That way, your foundation is engineered to support a later additional floor.
Tip #4: For Lower Metal Building Prices, Keep the Lines of Communication Clear
Local building officials, an architect, an excavator, a foundation contractor, framing erectors, a general contractor, and your steel building provider all need to be coordinated. You are the one responsible for making sure all these entities are kept abreast of current local building codes, plan changes, and scheduling.
Tip #5: Carefully Check Your Bill of Lading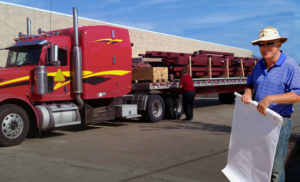 Don't be so excited about beginning construction that you fail to inventory the steel building kit accurately!
Check all the pieces against the Bill of Lading as soon as your framing arrives. Be sure that all framing parts are present and undamaged before you begin the framing erection.
Tip #6: Do You Have the Right Tools and Equipment?
Erecting prefab metal buildings requires specific tools and special handling equipment. Make sure you have the right equipment for the job.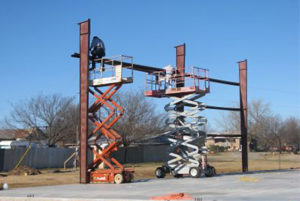 If you rent a lift or crane that is too large or too small for your building, you waste both time and money.
Scheduling rental equipment too soon or too late also takes a bite out of your building budget.
RHINO provides you with a list of materials. Our steel building specialists can advise you on what heavy equipment would work best for your specific project.
Tip #7: Do You Have an Adequate Crew?
If you are using a professional erection crew, they are responsible for providing the right sized crew for the job.
However, if you plan to erect the building yourself, you need sufficient help to do the job safely and efficiently.
For example, a three-person crew typically erects a 40' x 60' RHINO steel building in about five days. Generally, 60' by 100' pre-engineered steel buildings take a four-person crew about seven days to complete.
Ask your RHINO specialist for suggestions on how big a crew you will need for your specific project.
Conclusion: Watch the Details to Lower Overall Metal Building Pricing
To keep metal building prices low, pay close attention to the details. Careful planning and scheduling help keep your metal building costs to a minimum.
RHINO Metal Building Prices Cannot Be Beat
Get the most for your construction dollar; depend on RHINO pre-engineered metal buildings.
Cost-conscious builders trust RHINO pre-engineered metal buildings for the strongest structure at the lowest price.
Designed for an efficient use of materials, RHINO metal building kits eliminate waste. You never pay for something you will not use.
Prefabrication also cuts your construction costs. RHINO customers find our building system trims erection time by about 33% over other building alternatives.
Call RHINO now at 940.383.9566. Discover the RHINO Difference in metal building pricing and quality.
(Updated 7-29-2020. Originally published 1-30-2018.)