Why Detached Steel Hangar Homes are Perfect for Airparks
Having metal airplane hangars at home creates a paradise for pilots and their planes at airparks across the U.S. and Canada. These residences-parked-on-a-runway create a haven for pilots and the loves of their lives— their aircraft.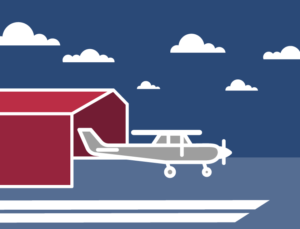 Today thousands of avid aviators live in these fly-in communities. Airparks combine hearth and hobby in one convenient location.
Imagine having your plane ready and waiting at your home— with a runway in your backyard! That's the airpark concept.
Aviators and Airparks: Love at First Flight
Airparks vary greatly in size and conveniences.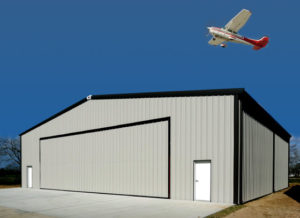 For example, some rural airparks encompass only a few dozen homes surrounding a simple grass runway.
However, more elaborate airparks boast a host of urban comforts and conveniences. These top-of-the-line pilot havens may include paved and lighted runways, tennis courts, and even golf courses.
Birds of a Feather Flocking Together
What does not vary from one fly-in community to another is the sense of camaraderie in a community of pilots. It is simply more fun to spend time with others who share your consuming passion for flight.
So how popular are airparks? The Living with Your Plane airpark directory alone lists 640 airparks in the U.S.
Attached versus Detached Hangar Homes
So what are the design options for fly-in homes?
Some airpark residents actually incorporate the hangar as part of their house, creating a glorified garage for their aircraft.
However, this concept may present huge problems.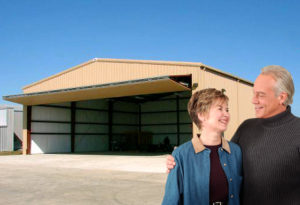 Currently, International Building Code (IBC) restrictions make attached residential hangars a permitting nightmare— and a costly project.
Moreover, detached metal airplane hangars offer one specific advantage over attached hangars: unlimited space restrictions.
Most people want a large multi-use steel hangar to house not only their planes or helicopters, but also their cars, boats, RVs, lawn equipment, and even workshops. Naturally, that requires a larger structure with lots of open space.
Unfortunately, current IBC restrictions place limitations on an attached residential hangar. Attached home hangars must not exceed less than 2,000 square feet. In addition, the hangar's height cannot top 20 feet.
That is far too little space for what most airpark residents desire.
In addition, there are numerous other stringent restrictions for attached hangars concerning egress, firewalls, electrical outlets, sprinkler systems, fire-retardant materials, and so forth. Furthermore, local building codes may place further demands on attached residential hangars.
Therefore, most pilots opt to build their metal hangars near, but separate, from their home.
RHINO Prefab Metal Airplane Hangars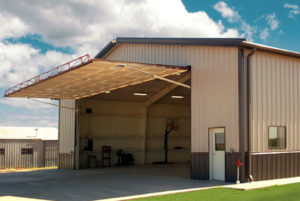 Private pilots find exactly what they need with RHINO-tough prefab metal hangars: unobstructed space, and lots of it.
Our strong, durable airplane hangar kits are affordable to buy, easy to construct, and economical to operate.
Furthermore, RHINO offers a wide range of clear span metal hangars, with multiple hangar door options.
It is so easy to build with RHINO airplane hangar kits. Simply choose the perfect size for your needs, then let RHINO help you work out the details.
Speak to a RHINO steel building specialist today. Get more information and a fast, friendly quote on your dream steel hangar.
Start making your dream hangar home a reality today! Call us at 940.383.9566!
(Updated 7-24-2019. Originally published 11-7-2017.)