RHINO Metal Stables, Riding Arenas, and Horse Barn Kits
Equestrian enthusiasts appreciate the advantages supplied by metal horse barns, indoor riding arenas, and horse stables. Whatever the need, RHINO prefabricated steel buildings deliver the most durable structure at the best price.
Protect Your Horses with Steel Stables and Horse Barn Kits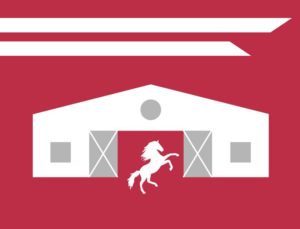 Horses represent a large investment of time, money— and love. Protecting horses means sheltering them in the safest possible accommodations.
RHINO prefab steel building kits make the best barns and ranch structures available today. Here's why:
The prefab components of RHINO horse buildings shave construction time by 33% or more compared to other building methods.
Steel's superior strength allows the large, unencumbered space needed for large horse barns. The clear span capabilities afforded by steel make RHINO's structures perfect for agricultural equipment storage, hay sheds, shade shelters, horse stables, and indoor horse arenas, too.
Fire-resistant steel buildings never add fuel to a fire as wood structures do.
In addition, steel never attracts mold or termites like wooden structures.
Our rigid commercial-grade steel stables, barns, and other structures also resist damage from earthquakes, lightning, snow, and wind far better than other building systems.
The uncluttered ceilings of RHINO prefab horse barns and buildings also thwart birds from nesting inside the structure. Birds present a real problem with lighter web-truss type structures.
Metal buildings require far less maintenance than old-fashioned wood barns, which need frequent painting and repairs.
Premium insulation packages protect stock and workers in harsher climates with frigid winters or sizzling summers.
Conclusion
The durability of RHINO horse barns and equestrian buildings promise you the best long-term structural investment.
Loving RHINO Horse Stables, Indoor Horse Arenas, and Horse Barn Kits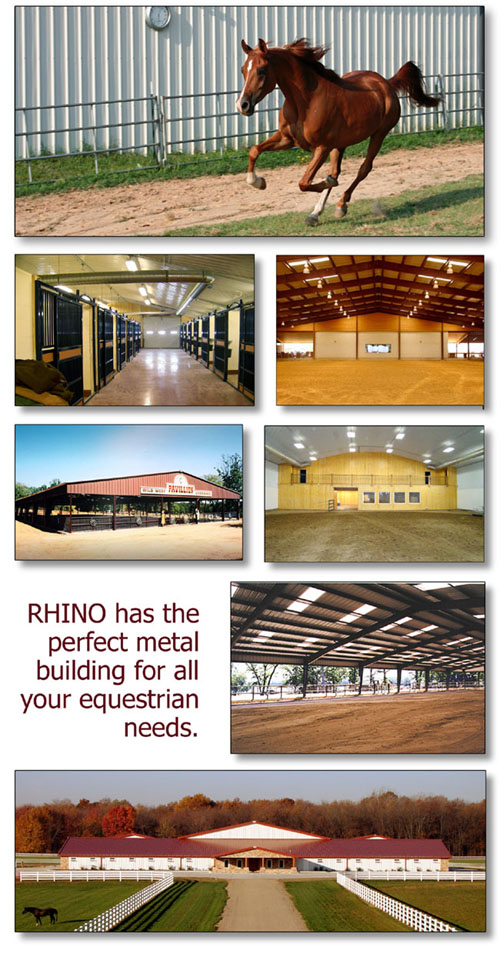 People who love horses will love RHINO buildings. Our premier steel buildings grant horse owners freedom from worry about their animal housing— and their building investment.
Our sturdy steel structures are versatile, expandable, strong, durable, simple to construct, and easy to maintain.
It is no wonder that professional equestrian businesses like the Outlaw Equine Veterinarian Clinic and Medieval Times Equestrian Training Center made RHINO their choice for professional equestrian structures.
Call RHINO now at 940.383.9566 to learn more about the horse barns, indoor steel riding arenas, horse stables, and other farm and ranch buildings.
Our steel building specialists will happily answer all your questions, offer expert advice on your building project, and provide you with fast, fair quotes.
(Updated 5-20-2020. Originally published 2-17-2017.)