HOW TO CASH IN ON THE BEAUTY CRAZE WITH METAL BUILDING SALON CONSTRUCTION
An attractive, affordable steel building kit creates an ideal place for cashing in on the beauty business.  From hair salons to day spas to beauty supply stores, a good looking steel building attracts those who want to look good.
The Beauty Business Boom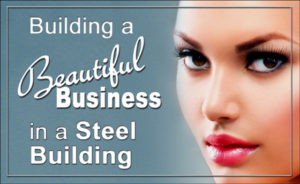 Let's face it: we all want to look our best.  American women— and increasingly men—willingly fork over their hard-earned cash on any product, treatment, or service promising to make them look and feel better.
Today, smart businesspeople know how to cater to our craving for comeliness.  And since our need to keep up our appearance never wains, the beauty industry is practically recession-proof!  Moreover, during economic downturns, customers may become more price conscious— but they don't stop spending!
The Value of Vanity
For a mind-boggling look at the scope of the beauty and wellness industry, check out these statistics:
Recent research estimates an average American woman spends almost $250,000 on her appearance over her lifetime. The American male fares only slightly better than his female counterpart, typically racking up $175,000 in appearance-enhancing products and services during his lifetime.
A whopping 85% of women admit to applying as many as 16 cosmetic and beauty products every day to improve their skin.
Experts estimate the major segments of the beauty market employ over one million people. And strong growth in the market is expected over the next decade.
Organic beauty products, anti-aging products, and male products and services are especially on the upswing.
The top 20 beauty product manufacturers now gross $12 billion annually online— yet that is only 14% of their $168 billion market! Clearly, retail beauty operations still lead the pack.
The U.S. now boasts over 90,000 hair care salons and barbershops. The typical salon covers 1,000 to 1,500 square feet.
Each year Americans make 186 million visits to the 21,000 plus spas in the U.S.!
Currently, there are over 72,000 gyms and health clubs flourishing across the U.S.
Over 6,000 certified plastic surgeons now nip and tuck the sagging parts of Americans.
Americans shell out $985 million each year just on foundation. Mascara brings in another $942 million in the blink of an eye each year.  Comparatively, lipstick pouts at its meager $627 million market share.
Stealing into the Beauty Market with a Steel Building
Clearly, the opportunities for launching— or expanding— a beauty-based business have never been better.  And RHINO steel buildings offer the salon construction benefits that beauty businesses appreciate, including:
Attractive array of exterior style choices
Built-in fire resistance that yields lower insurance premiums
Easy-care maintenance
High resale value
Long-lasting good looks
Low cost-per-square foot
Lower energy costs with Pro-Value Insulation system
RHINO metal buildings adapt easily to any health and beauty segment structure, including:
Beauty shops, hair salons, and barber shops
Beauty supply and cosmetic stores
Dermatological, dental, and surgical offices
Fitness equipment stores
Health clubs and gymnasiums
Health stores
Luxury spas
Nail salons
Online beauty product fulfillment warehouses
Wig and hairpiece retailers
Build a beauty of a business with a steel building from RHINO
Be assured that every RHINO order carries a full guarantee that the framing will meet— or exceed— all current local building codes for the lifetime of the structure!
Contact us today at 1.940.383.9566 .  Get a free quote on salon construction and expert advice from the professionals at RHINO Steel Building Systems.