Using a Prefab Metal Building for the Ultimate Workshop
Every true do-it-yourselfer deserves a fantastic steel building shop. No matter what your do-it-yourself passion, you will find your creative juices flowing in a roomy, comfortable, well-organized workshop.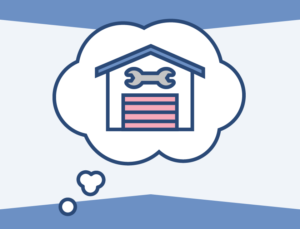 As a die-hard do-it-yourselfer, you already have a head spinning with ideas for building your own workshop. You supply the ideas, and let RHINO supply the prefabricated steel building shop kit to fit your needs.
Dare to dream it, and then dare to build it yourself with a RHINO steel building kit!
Let's Talk Shop Kits
While most people think of pre-engineered metal buildings as "kits," that is really a misnomer. "Kits" implies we have a warehouse full of ready-to-ship buildings in set sizes, like a supplier for little garden sheds, but that's not the way we work.
When you buy a RHINO steel building, you set the exact size and choose the precise features you want. Then we go to work designing and manufacturing your personalized steel building shop "kit."
So Why Choose a Steel Building Shop?
Do-it-yourselfers enjoy building or repairing things with their own two hands. That is why so many do-it-yourselfers choose metal building workshops— they can literally build it themselves— with the help of a few friends.
Constructing your own metal building shop is not only easy and rewarding, but a fun, money saving project, too. The benefits of our DIY steel buildings include:
Ultra-strong, commercial-grade steel framing
Affordable to buy, build, and operate
Optional Pro-Value insulation package for year-round comfort
Increased fire-resistance— especially important in workshops using volatile chemicals, wood materials, or spark-producing welding
Substantial insurance discounts with most carriers
No unwieldy interior columns
Resistance to damage from high winds, lightning, termites, vermin, earthquakes, and mold
Increased property value and sales appeal
Many superior leak-resistant features at no extra cost
Virtually maintenance-free care
Your choice of steel panel and trim colors, gutters, skylights, and other customizing options
Clear span gives you unlimited layout options for your equipment
Imagine the Possibilities for Your Own Steel Workshop
Can you envision it?
Room to organize all your tools and equipment
Counter tops and uncluttered workbenches
Rolling tool and supply storage units
Cabinets and shelving to make everything you need easily accessible
Plenty of storage space
Great lighting to reduce shadows on your workspaces
Plentiful electrical outlets
Terrific ventilation
All the amenities: computer station, bathroom, shop sink, and refrigerator
Maybe even a big-screen TV for downtime with the big game
If you can dream it, RHINO can produce it for you! Whether your dream workshop is a cozy garage-sized structure— or the size of Santa's workshop— RHINO's got you covered.
Speak to a RHINO metal building specialist today about building your own workshop. They'll answer all your questions, supply you with support materials, give you expert advice on ways to improve your dream shop— and provide a fast quote on your project. Call us at 940.383.9566.
Together, we can make your steel building shop vision become a reality.