Steel Building Kits Create Spectacular Garages with Room to Spare
Why build a plain, dinky garage when you can have a roomy multi-purpose detached building? Not only will you have space to protect your cars, but also room for recreational vehicles, lawn care equipment, hobbies— and more importantly— STORAGE!
Why Invest in a Bigger Garage with Additional Storage?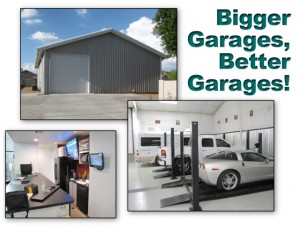 There are three basic reasons to consider adding a combination garage and storage structure to your property:
VEHICLE PROTECTION: Why park your $40,000 car outside, vulnerable to damage from the elements and theft, while boxes of memorabilia, old toys, and discarded junk hold your garage space hostage? If you own an ATV, boat, camper, golf cart, jet ski, motorcycle, RV, or snowmobile, they too need sheltering from nature's whims.
ADDED STORAGE: Is there anyone in America who could not use more storage space? Many Americans are throwing away money each month on a self-storage unit. Declutter your home without paying endless self-storage fees. Generate much needed space by building a large detached multi-purpose garage.
RESALE VALUE: Think beyond what you want and need now. Think about what happens in the future when you want to sell your home.
A large garage with additional living or storage area is a HUGE plus when selling the property. Roomy multi-purpose garages increase the resale value of a home.
Fifty-two percent of homeowners admit they want a spectacular garage to impress their friends and neighbors.
Homes with oversized garages also sell much faster than homes without that amenity. In fact, spacious multi-purpose garages rank as the second most important factor in choosing a particular home. (A gorgeous, spacious kitchen is the number one selling asset.)
On average, an attractive, well-built garage/storage building increases the selling price by as much as 14%. Conversely, a small, crowded, or poorly designed garage actually turns buyers off, sending them to other properties.
What Could You Do with All that Room?
People come up with amazing ways of using the additional space provided by an oversized steel building garage. Here are just a few examples:
• Artist studio
• Auto shop
• Entertainment/party room
• Family gym/exercise room
• Guesthouse or apartment
• Hobby house
• Home business space
• Home office
• Home schoolroom
• Man cave or woman cave
• Media room/home theater
• RV or boat storage
• Storage space
• Wood-working shop
How Large a Multi-Purpose Building Do You Need?
Choosing the size for your new garage/storage/multi-purpose structure depends on many factors. Address these issues before you make any plans to build.
• How do you plan to use the structure now— and how might the building's use change in the future? How much space is available on your lot?
• What are the limits, easements, parameters, and restrictions of your local building permitting department?
• Does your neighborhood have additional restrictions?
• What are your budget constraints?
• Can you do all or part of the construction yourself, or will you need a contractor?
The optimal space for an ordinary three-car garage is 24' x 36', or 864 sq. ft. Increasing the size to just 30' x 40' bumps up the area to 1,200 sq. ft. You get 39% more space by adding only 6' x 4' to the overall footprint of the structure.
Choose to Build BIGGER Garage/Storage Structures with Steel
If you are going to the trouble and expense of building a garage, why not maximize the space available with a RHINO steel building garage?
RHINO Steel Building Systems recommends building multi-purpose structures with a minimum of 1,200 sq. ft. However, we find many of our customers build 40' x 60' metal structures— or even larger. (Keep in mind that steel buildings are measured to the outside of the steel framing.)
If a smaller lot prohibits building as large a structure as you really want, consider going higher. RHINO's pre-engineered steel buildings are easily built with soaring ceilings, allowing you to add a second story office or a storage loft. (Check with your local authorities to see if any height restrictions apply.)
Our next blog will discuss the wonderful advantages of building garage/multi-purpose structure with prefabricated steel framing.
The RHINO number is 940.383.9566. Once you have a clear idea of your structural needs, please allow us to bid on your next building project.