Why Roof-Only Farm Buildings are Gaining in Popularity
One of the agricultural building trends we cited in part one of this series was the increasing number of roof-only farm and ranch structures. There are two main reasons for the recent upsurge in unenclosed agricultural construction.
First, open-walled, agricultural building kits make movement easier.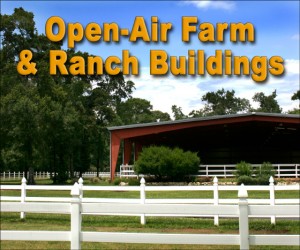 Today's massive farm equipment does not turn on a dime. Maneuvering in and out of a wall-less structure is much simpler than fitting through a tight doorway.
Secondly, roof-only buildings cost less.
Modern farming and ranching requires much larger farm buildings. Opting to build with fewer walls helps offset the cost of construction.
Wall-free barns and ag buildings save an average of $2 per square foot over fully enclosed structures. In addition, roof-only buildings erect faster than walled-in structures.
Farmers and ranchers may choose zero exterior walls— or leave only one, two, or three walls open.
Typically, open-air agricultural structures work best in milder climates.
Steel Roof-Only Agricultural Structures
In part two of this series, we covered 21 reasons farmers and ranchers overwhelmingly buy pre-engineered steel ag buildings.
The solid I-beam construction of prefabricated metal buildings provides the affordability, flexibility, and durability agribusinesses demand. Steel buildings also offer the best option for the sheer size and spans needed for today's farm and ranch operations.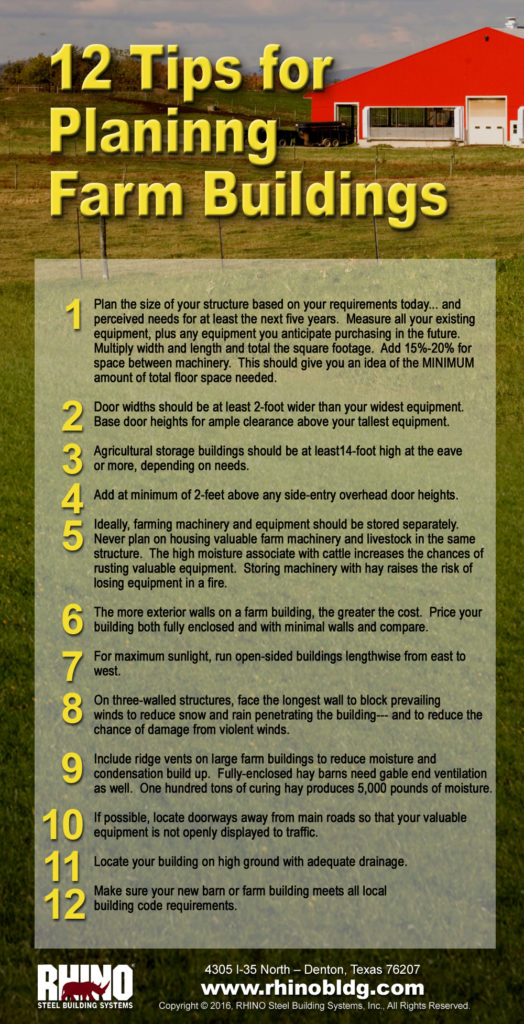 Steel buildings also supply the perfect farm structure for today— and for tomorrow.
Should future growth require a larger structure, you will find expanding a RHINO steel building both practical and economical. Simply order more bays to add at either end of the building.
Later, if desired, you can easily add one or more walls to your roof-only agricultural building kit. RHINO can supply the building materials prefabricated to exactly match your existing structure.
Unenclosed Building Uses
Agribusinesses build open-air steel buildings for many uses:
• Bulk storage
• Covered exercise carousels for horses
• Covered poultry pens
• Equestrian riding arenas
• Equipment shelters
• Grain and commodity storage
• Hay sheds
• Livestock housing
• Livestock wind shelters (with one or more walls)
• Machine shops
• Shade shelters in treeless pastures
• Stalls and stables and tack rooms
• Tack rooms
• Warehouses
Build Strong to Last Long; Build with RHINO.
Whatever your agricultural building need, RHINO can supply the best deal in steel. Our farm and ranch structures ship all across North America from multiple shipping locations.
RHINO prides itself on quality steel buildings and first-rate customer service.
Call RHINO now to learn about agricultural building kits. Our number is 940.383.9566. Our courteous, experienced staff will gladly answer all your questions, supply you with a free quote, and assist you in any way possible.