Unlimited Floor Plan Options with Pre-engineered Steel Buildings
No other building system offers the spaciousness of pre-engineered metal buildings. Steel's strength allows for completely open floor space, unencumbered by obstructing support columns or load-bearing walls.
Let's take a brief look at the evolution of building in the past 70 years.
The Restrictions of Wood Framing
Wood-framed structures and pole barns created most low-rise structures in the last century.
Wood needed interior supports, restricting use and maneuverability. It also required constant upkeep and frequent painting.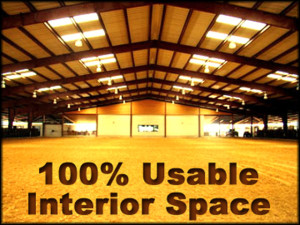 Rot, mold, termites, fire, lightning, and high winds all posed threats to wood structures— then and now.
Seventy years ago, wood was plentiful, readily available, and cheap, so wood framing remained the primary building system.
As old-growth forests diminished, lumber prices soared— while wood quality plunged. Soon commercial builders, farmers, ranchers, and aviation operations were looking for alternatives to old-fashioned wood structures.
The Limitations of Arch-Type Buildings
During World War II, the military needed structures that could be erected quickly— and dismantled quickly as battle lines shifted. The Quonset hut was invented to fill this need. (Think Gomer Pyle's barracks.)
After the war, Quonset huts found a niche in agricultural markets at home. Farmers and pilots liked the ease of construction of the arch-type equipment sheds. They liked the low-maintenance and durability of steel. However, due to the curve of the walls, much of the interior space was wasted.
The Drawbacks of Light-Gauge Steel Framing
As forests disappeared and lumber prices rose, light-gauge steel framing began to make inroads into the construction market.
The idea was simple: substitute light-gauge steel studs for wood studs, "stick-for-stick."
Steel framing was stronger and lighter than wood. Light-gauge steel framing required less maintenance than wood. Impervious to termites, rot, and mold, light-gauge steel framing also provided better resistance to wind damage, lightning, and fire than wood framing.
While a huge improvement over wood framing, light-gauge steel presented three major drawbacks:
1. Unfamiliarity of builders with the system
2. Labor-intensive construction
3. Like wood, stick-for-stick light-gauge steel framing required interior load-bearing support walls, limiting floor space options
Pre-engineered Metal Buildings: Total Floor Plan Freedom
Today 50% to 60% of all low-rise commercial buildings are framed with steel. Steel claim an even bigger share of the industrial market— 90%.
Why?
Innovations in steel construction products and engineering software combined to make today's steel building systems a lean, green, building machine.
Pre-engineered steel buildings can span farther than any other construction system. There is no need for interfering interior load-bearing columns or walls. Clear span metal buildings allow 100% usage of all floor space.
RHINO metal buildings offer clear span widths of 200' or more. Department stores, churches, aircraft hangars, barns, equipment shelters, equestrian riding arenas, warehouses, and other large low-rise structures enjoy completely unhindered space with our steel building system.
Since steel possess the highest strength-to-weight ratio of any building material, pre-engineered metal buildings span farther, soar higher, stand stronger, and last longer than other building systems. A stronger structure is created with far fewer pieces.
Fewer pieces mean quicker assembly. A RHINO prefabricated steel building goes up fast— slashing construction time by 33% or more over other building methods.
As an added bonus, steel buildings defy damage from rot, mold, or termites. Far more resistant to strong winds, fire, lightning, heavy snows, and aging than other building methods, pre-engineered steel buildings outlast the competition by decades.
Want to Know More? Call RHINO now at

940.383.9566.
For the best deal in steel, discuss your next project with a RHINO metal building specialist today. We can answer any questions, provide expert assistance, and give you a fast, fair, friendly quote.