21 Reasons Perceptive Farmers and Ranchers Choose Steel Buildings
In part one of this series on agricultural building trends, we learned both farms and farming equipment are much larger today. Barns and other farm buildings must increase in size. Consequently, agricultural steel building sales are on the rise.
Why are so many farmers and ranchers choosing to build with steel? Pre-engineered steel buildings are the only structures that meet the demands of 21st century farming operations.
21 Benefits of Steel Agricultural Buildings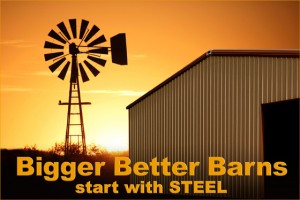 Metal building advantages for today's farm and ranch operations include:
1. WIDER SPANS: Steel farm buildings span much farther than other building systems, creating massive, column-free space. RHINO metal buildings span as far as 300' wide without any interior columns. Farm buildings up to 480' wide are possible with minimum interior supports. Eave heights reach up to 42'— and even higher with a custom order. Steel buildings have no limitations on length.
2. NO ROTTING: Unlike wood barns and buildings, which can rot and deteriorate over time, steel buildings never rot.
3. STRONGER FOUNDATION: Pole barns bury supports in the ground, leaving them vulnerable to rot.
Steel barns and metal farm buildings mount on concrete slabs, perimeter walls, or piers, creating a more stable and permanent base.
4. STRONGER CONNECTIONS: Wood-framed structures with nail connections offer little resistance to the lifting forces of high winds. Under stress, the nails pull out of wood.
RHINO steel buildings employ steel bolts and nuts to connect framing pieces. These large high-strength fasteners are better able to withstand the lifting forces of strong winds.
5. GREATER WATERPROOFING: In wood barns, the steel sheathing attaches to the wood framing and trusses. Wood and metal expand and contract at radically different rates. The steel fasteners become loose— sometimes in as little as three years. Leaks become a problem. Roof sheathing starts to shimmy and flap in high winds.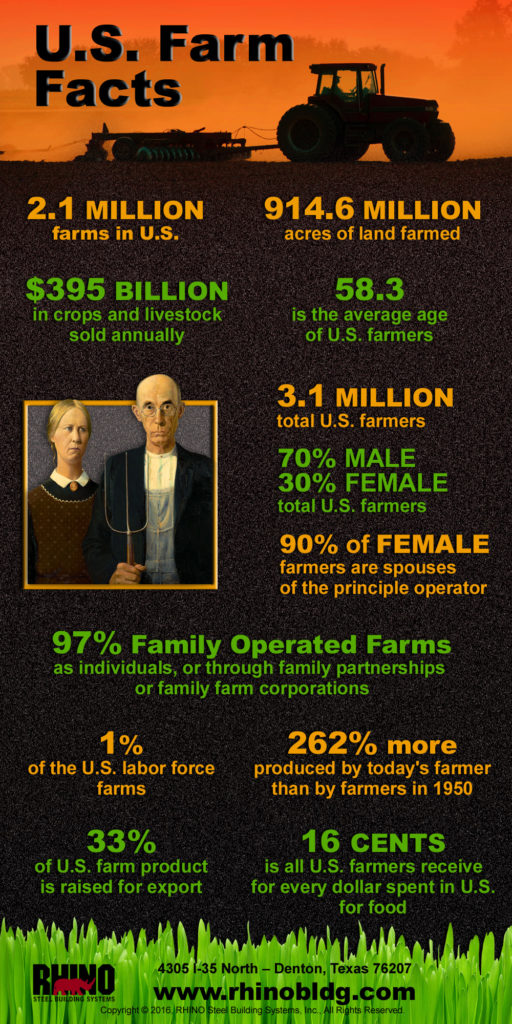 The steel-to-steel connections of metal roof panels and steel framing in RHINO prefab metal barns remain strong and tight, without leaks or deterioration.
In addition, all RHINO prefabricated metal barns and ag buildings include durable sealing washers on self-drilling screws, die-formed ridge caps, eave closure strips, and formed base trim for ultimate leak protection.
6. INSURANCE SAVINGS: Wood framing adds fuel to structural fires.
The non-combustible qualities of steel help protect the structure and its contents from fire. Steel structures earn substantial insurance discounts over wood and other building systems, based largely on the fire-resistant properties of commercial-grade steel.
7. LIGHTNING SAFETY: As a poor conductor of electricity, pole barns and wood-framed farm buildings ignite easily when struck by lightning.
Steel is a perfect conductor of electricity. Current passes harmlessly into the ground of a steel agricultural building.
8. BIRD-RESISTANT: Farm buildings with trusses attract birds. Perching and nesting in the trusses, birds foul everything beneath them.
Pre-engineered metal buildings use frames with rafters, not trusses, leaving no place for birds to perch and nest above.
9. TERMITE-RESISTANT: Wood barns and buildings invite termites and wood ants to dine.
No creepy-crawling wood ant or termite can make a meal of steel farm structures.
10. MOLD-PROOF: Organic materials like wood provide a food source for mold growth.
Inorganic steel never molds or mildews.
11. CHEW-PROOF: Livestock love to chew on wood framing.
Building with steel eliminates cattle and horses from chomping on your building.
12. EASY CARE: Wood farm buildings demand constant upkeep and painting.
Steel agricultural buildings require very little maintenance, making one less task for busy farmers.
13. ECONOMICAL EXPANSION: As the farm changes, so must its buildings. Steel structures expand quickly by simply adding more steel bays at the endwalls. Roof-only steel farm buildings are easy to enclose and insulate later if needs change.
14. GREEN MATERIAL: Environmental-conscious farmers and ranchers appreciate the high-recycled content of steel barns and agricultural buildings. Steel is the most recycled material on the planet. It is also the only material that holds all its inherent strength regardless of how many times it is recycled.
RHINO steel agricultural buildings contain as much as 90.9 % recycled content.
15. RETAIN VALUE: Steel buildings outlast pole barns and wood-framed structures by decades, making metal buildings a much smarter investment. Steel ag buildings also hold their value far better than other building systems.
16. PREFAB CONSISTENCY: Manufactured to strict industry standards, every piece of a prefabricated RHINO farm structure is uniform and consistent in both quality and performance— today and decades from now.
Wood framing, on the other hand, changes shape with fluctuating humidity levels. Wood bows, cracks, creeps, sags, twists, and warps over time. Nails and staples pull out, loosening the frame.
17. THICKER CLADDING: Cheaply made barn kits use 29-gauge steel roof and wall sheathing— a cladding 30% lighter than the long-lasting 26-gauge Galvalume® steel panels of RHINO metal building system. (RHINO also offers optional standing seam steel panels in 24-gauge.)
18. DEEPER CLADDING: The corrugation pattern of the metal sheathing typical in inferior farm buildings measures only 5/8" deep.
RHINO corrugated steel panels provide a much stiffer 1-1/4" deep corrugation depth, creating stronger metal sheathing.
19. STRONGER CLADDING: Cheap steel R-panel sheathing has a minimum overlap from sheet to sheet, creating an overall weaker structure.
RHINO metal farm buildings promise higher-grade purlin bearing rib (PBR) panels. PBR panels overlay farther, creating a stronger structure— and greater waterproofing.
20. GUTTERS and DOWNSPOUTS: Pole barns do not typically offer trim, gutter, and downspout options.
RHINO steel farm buildings allow many premium customizing options like steel trim, gutters, downspouts, doors, skylights, insulation packages, and more.
21. FAST, EASY CONSTRUCTION: Life on a farm or ranch is fast-paced. The business cannot slow down for a construction project. That is why farmers and ranchers love the simple erector-set ease of a pre-engineered steel building system. Many agribusiness operators decide to erect their own steel farm structures, reducing construction costs.
Allow RHINO to bid on your next barn or agricultural building. Our rural structures ship from multiple points across the U.S. to any location in North America.
RHINO precision designed steel structures are guaranteed to meet— or surpass— all current local building codes for the lifetime of the building.
Call RHINO today at 940.383.9566 for more information. Talk to a friendly RHINO metal building specialist now. Our professional staff will answer all your questions and help you plan the best possible structure for your current needs.