From Crude Wood Sheds to Sleek Steel Stores
Gas stations today are so common and convenient, we never give them a thought— until we run low on fuel. Yet, they hold a fascinating place in American history.
The Quest for Petro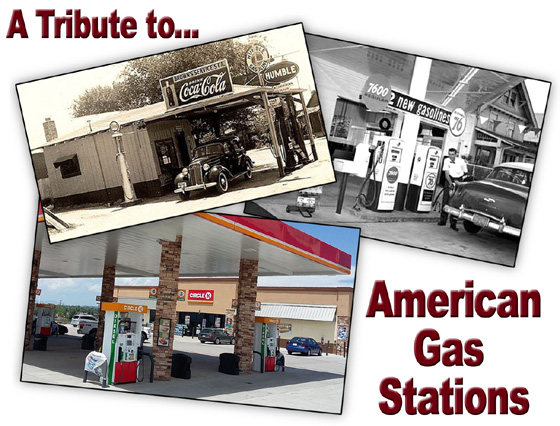 Early motorists hauled fuel in cans or buckets from wherever they could find it available at hardware stores, pharmacies, blacksmith shops, or livery stables. Horse-drawn wagons with tanks delivered the fuel to their commercial customers for resale to motorists.
Two pioneers of the gasoline station opened in the early-1900s in St. Louis and Seattle. The shopkeepers filled a five-gallon gas can behind their store, and then trotted it out to fill the customer's vehicle in front.
Later, American drivers pumped their own "petro." Motorists bought fuel from hand-operated pumps installed on the curb. However, these pumps proved top be a problem, as drivers often blocked traffic while pumping gas at the curb-side pumps.
America's First True Gasoline Station
The first drive-in gasoline station in the U.S. opened December 1, 1913 in Pittsburgh, Pennsylvania. A manager and four attendants fueled vehicles under the sheltering roof of a tiny pagoda-styled building. The station supplied free air and water and even repaired and installed tires.
On its first day in business, the Pittsburgh station sold a total of 30 gallons of gas at a whopping 27 cents per gallon!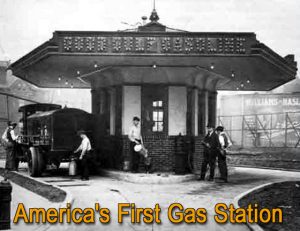 By 1917, seven more gasoline stations fueled the automobiles and trucks of Pittsburgh drivers.
Americans on the Roads
By the late 1920s, America had 200,000 filling stations spread from sea to shining sea. As fuel (and affordable vehicles) became readily available, Americans wanted to hit the roads.
Unfortunately, the wretched, pot-holed roads hit back. Long road trips were not for the faint of heart.
The growing number of automobiles demanded paved highways and improved roadways. Consequently, the Federal Highway Act of 1921 called for the development of a national highway system.
In 1925, the first gas station "credits cards" appeared on the scene. Made like dog tags, these metal plate cards fell from use during the Great Depression. Today credit cards account for 70% of gasoline purchases.
In the 1930s, improved automobiles and roads offered Americans real freedom to travel at will.
Early Filling Station Designs
The first rural gas stations typically included a small shack-like wood structure. Owners sold oil, gas, and ice-cold "pop" for weary travelers.
Quick to see the potential for selling their products, oil companies began building networks of attractive, prefabricated filling stations. As rival chains competed for business, available products— like tires and batteries—expanded. Many companies even offered free road maps to customers.
In 1927, Frank Lloyd Wright designed a gas station. The two-story design included an observation deck, luxury bathrooms, and fireplaces. Gravity-fed water tanks under the roof supplied the pressure to pump gas.
Unfortunately, no one shared Wright's vision of an upscale gas station. However, a scaled-down version of Wright's original design appeared in Cloquet, Minnesota— 31 years later.
In 1947, the first official "self-service" gas station opened in Los Angeles. However, the first 24-hour gas station did not open until 1962 in Las Vegas.
In the 1970s, economical off-brand "service stations" gained in popularity. Stations featured multi-pumping stations with large covered canopies. Many stations included garages with mechanics to handle simple repairs and oil changes. Fueling stations became retail centers with small stores or restaurants.
Today over 150,000 multi-pump gas stations cover the country. Most stations include a convenience store or a car wash. Stocked with over 3,000 items, the stores aim to entice customers to fill up more than their tanks.
Prefabricated Steel Building Gas Stations
Pre-engineered steel buildings offer numerous advantages that gas station and convenience store owners value, including:
Extra fire-resistance
Affordable cost
Damage resistance
Commercial-grade building material
Clear span interiors
High recycled content
Low maintenance
Durability
High resale value
Learn more about RHINO steel building solutions for gas stations and convenience stores. Speak to an experienced metal building specialist today. Call RHINO at 940.383.9566.
RHINO stands out from the common herd by supplying a superior steel building at a great price. You will find our customer service is second to none.
Let RHINO provide a free quote on your upcoming commercial or industrial building project.