Building Your Own Convenience Store Business
Part 1 in this series covered the basic statistics on convenience stores in the U.S. Now let's look at getting started in this lucrative industry.
Franchise or Do-It-Yourself?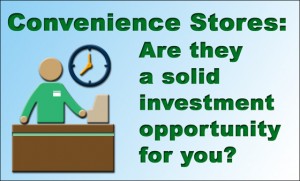 There are two basic ways to get started in the convenience store business: 1) independently, or 2) with a franchise. Both privately owned stores and franchised stores take a large initial outlay of capital.
Franchises simplify marketing and set up. They offer a ready-made system of operation, but require a hefty upfront franchise fee— plus a portion of your profits for advertising and marketing.
Currently, Franchise Rankings lists these as the top five convenience store franchise companies:
1. Express
2. Circle K
3. ampm
4. Dash In
5. 7 Eleven
Building a privately owned convenience store (known in the industry as a "c-store") requires more time and effort to set up, but keeps all the profits in your pocket.
Regardless of which method you choose, you will need to submit a business plan to your lending institute for funding.
Research the convenience store industry as a whole. Analyze your local market. Check out the local convenience stores. Establish a time line for opening your store. Create a budget for the project.
The Small Business Administration (SBA) is an excellent source for information, assistance, and loan solutions. For free demographic information, contact your local Small Business Development Center (SBDC).
Choose a prime location for your new store based on your research.
As in any real estate venture, location is paramount to the success of a convenience store. After all, if it is not highly visible and easily accessible, it is not convenient for your customers and will not be profitable for you.
Convenience stores typically opt for corner locations, although they garner a higher cost-per-square-foot. High traffic areas or places with heavy foot traffic bring in business.
Keep in mind that the majority of a C-store's customers are within a two-mile radius of the store. Compare that to the typical grocery store, which draws most of their customers from a ten-mile radius.
Decide whether your store will include gasoline sales. Although fuel sales generate three to five cents of gross profits per gallon, they do bring in the customers. Thirty-five percent of those who stop at the fuel island will also come into the store. Convenient stores account for eighty percent of all the fuel sold in the U.S.
Do not overlook items and services you might offer for increased traffic and additional profits. Magazines, newspapers, ATMs, phone cards, lottery tickets, postage stamps, fax and photocopying services, bring in business in many convenience stores. There may be other profitable products and services you could offer that are particular to your location.
Be sure your operation complies with all local, state, and federal governmental rules. Be sure you have all the insurance, permits, licenses, and taxation documentation required to open for business. You will also need inspections from local health and fire departments.
Plan for plenty of lighting, both inside and outside the store. Include an adequate number of high-quality security cameras to cover both the interior and exterior of the store.
Establish strong relationships with your wholesalers and vendors. Form multiple vendor relationships to protect your store from supply chain interruptions. Staying well stocked at all times creates repeat customers.
C-Stores with the Strength of Steel
When you are ready to build your convenience store, consider building with a pre-engineered steel building system from RHINO.
RHINO steel building systems offer a wide range of advantages for c-store owners:
• Affordable structures that hold the value decades longer than wood framing
• Clear span, unobstructed interiors for maximum space flexibility
• Building system with proven strength and durability
• Commercial-grade framing material
• Ready to assemble framing components
• Much faster construction time for quicker occupancy
• Reduced waste
• Added damage resistance from winds, mold, termites, snow, earthquakes, and fire
• Built-in waterproofing features
• Better indoor air quality
• Unlimited exterior design possibilities
• Discounted insurance
• Very low maintenance
• Eco-friendly, green building assurance with the most recycled substance on earth
• The possibility of simple, economical future expansion
Building your next convenience store or other commercial project with the strength of steel— RHINO Steel. Speak to a RHINO metal building specialist today. The RHINO number is 940.383.9566.