RHINO Says "Thank You" to U.S. Veterans
Without U.S. military structural innovations, RHINO Steel Buildings Systems might not even be here today.
American veterans served our country and defended our freedom at home and abroad. How can we ever thank them enough for that?
But as a pre-engineered metal building company, we owe even more to American World War II veterans. We owe our very existence to the military's development of the first prefabricated steel buildings.
Quonset Huts History
Early in 1941, it was apparent to military experts that World War II would soon pull America into the fray. The logistics of housing troops adequately and quickly during wartime is a daunting task. Some sort of all-purpose, light, durable, easily erected structure was needed— and needed immediately.
In March of 1941, Admiral Ben Moreell, Chief of Navy Yards and Docks, approached the George A. Fuller Company in Quonset Point, Rhode Island. Explaining the dilemma, Moreell commissioned Fuller's company to create a strong, versatile, portable structure for military use. The Navy demanded structures to be sturdy, compact for shipping, easily erected by military personnel with no construction experience and only basic tools, and quick to knock down and reassemble as battle lines changed.
Oh, and by the way, the military wanted the first order in 60 days.
Fuller accepted the challenge. He gathered his top engineers and they hit the drawing boards at a run.
At first, engineers Otto Brandenberger and Peter Dejongh studied a light prefabricated structure used by the British military in the First World War. Known as the Nissen hut, the British design looked promising, but proved problematic. Improving on the original design, Fuller's team developed a semi-circular shaped steel structure that could be efficiently manufactured, shipped flat, and assembled fast.
So sure were Fuller's team that they were on the right track, they began production before the Navy finalized the designs.
The Quonset Point company christened these all-purpose wonder-structures as "Quonset huts."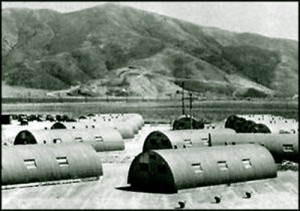 The first design employed T-shaped steel ribs for framing, earning it the name "T-Rib." The original T-ribs were 16' x 36' with an 8' radius. Corrugated galvanized steel sheets supported by wood purlins bent to form the arch-shaped buildings. The Anderson Sheet Metal Company in Providence, Rhode Island, developed the system employed to bend the steel sheathing to fit the half-moon structural shape.
Plywood formed the endwalls of the typical Quonset hut. One door and two windows graced each endwall. The versatile structures could be built atop pilings, on concrete, or directly on the ground. In later models, shipping pallets doubled as wood flooring for the huts.
An untrained crew of eight could erect a T-rib in one day.
In June 1941, the Navy shipped its first Quonset huts overseas.
The Day That Still Lives in Infamy
On December 7, 1941, the Japanese attacked the U.S. fleet moored at Pearl Harbor, Hawaii. America's worst fears came true. We were at war.
Immediately, the U.S. Army ordered 16,000 Quonset huts.
Once in use in the field, the military found the arch shape walls created areas of unusable space along the outside walls. A modified version with 4-foot high straight knee walls solved the wasted space problems.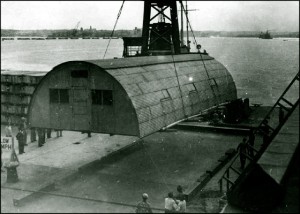 Other modifications soon followed, as engineers slaved continually to improve the ease of shipping, assembly, versatility of use— and mobility. Helicopters could move the structures quickly when speed was of the essence.
The military approved Quonset huts for 86 official services. The steel huts created airstrip hangars, bakeries, barracks, chapels, isolation wards, latrines, medical units, mess halls, offices, showers, warehouses, and more.
Larger designs, including a 20' x 48' and a 40' x 100' monster known as "The Elephant," flew off production lines. Quonset huts combined to form a 54,000 sq. ft. multi-arch warehouse in Guam. Designers later created a wood version of the Quonset hut for use in the Artic.
After World War II
By the 1950s, an estimated 160,000 Quonset huts had shipped around the globe.
After the war, military surplus sold Quonset huts to individuals for private use. Typically, the structures cost about $1,000 each.
Universities used many as temporary student housing. Farmers and ranchers bought government surplus Quonsets for barns and storage. Commercial business quickly adapted the militaries' so called "tin tents" as restaurants, libraries, churches, and even theaters. Post war homebuyers flocked to grab the surplus steel buildings to create bargain bungalows for their families.
Owen Bradley assembled a Quonset hut in Nashville, Tennessee, to house the recording studio for his fledgling company, Decca Records. It turned out that the semi-circular shape created fantastic acoustics. Country music greats Johnny Cash, Patsy Cline and Loretta Lynn all started their recording careers in Decca's arched steel studio.
After World War II, National Steel Products connected multiple huts together to form a huge headquarters in Houston, Texas, covering five acres.
Steel Buildings for the 21st Century
Once the novelty of the round-shaped huts wore off, sales of Quonset hut steel buildings dropped significantly. However, many entrepreneurs and business people saw the advantages of prefabricated steel structures and recognizing the merits of such systems.
Metal buildings have come a long, long way from those thrifty, nifty tin tents. Seventy-five years later, pre-engineered steel buildings rule the commercial and industrial markets for low-rise structures.
Today's pre-engineered steel buildings promise an affordable, versatile, durable, problem-free structure. No other type of structure provides greater protection from Mother Nature's violent outbursts. One hundred percent recyclable, prefabricated metal buildings top the list of eco-friendly green building materials.
For more information about the pre-engineered metal buildings of today, please call RHINO at your convenience at 940.383.9566.
Have a Fabulous Veterans Day!
RHINO wishes to personally thank all the Americans military veterans. We deeply appreciate your service and sacrifices to keep our country safe.
To the families of those veterans, who also sacrificed, doing their part on the home front, you too deserve our sincere thanks.
And to those now serving in our military here and abroad, we honor your patriotic commitment on Veterans Day and every other day.
Bless you all!