If It Moves on Wheels, Display It with Steel!
Dealerships overwhelming use pre-engineered steel buildings to construct their vehicle showrooms.  Steel brings many benefits to the table for showrooms.
From cars to campers, marine to motorcycles, and trucks to tractors, all shrewd vehicle dealers look for the same basic things in a new facility: unobstructed space, economical construction, and affordable operation.
1.

Vehicle Showrooms Demand Wide Open Spaces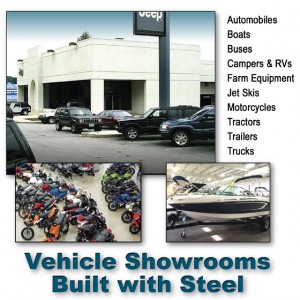 First of all, showrooms need to be, well, showy. To display the merchandise to its best advantage, the sales floor must be spacious and well lit. Customers quickly leave an over-crowded, dimly lit storefront, heading to a competitors location.
The larger the vehicles, the greater the amount of showroom space required.
Only steel has the strength to create huge areas without any interior columns or supports.
Pre-engineered steel buildings clear span spaces as wide as 300-feet— the length of a football field! Displaying the merchandise attractively becomes simple. Unobstructed buildings let the sales staff keep a subtle eye on browsing customers. It also makes maneuvering the stock within the showroom much easier.
Steel boasts the strongest weight-to strength ratio of any standard building material.
Steel's great strength allows for large expanses of glass. The natural lighting provided by ample exterior glass enhances the showroom, displaying the vehicles to best advantage. Abundant glass areas create an attractive frame for autos, boats, or other vehicles, enticing customers to the sales floor.
Prefabricated metal-framed buildings provide towering ceiling possibilities of 40-feet or more. Mezzanine systems designed for steel buildings allow efficient use of ample overhead space outside the showroom area, creating upstairs areas for parts inventory, administration offices, breakrooms and the like.
Pre-engineered steel buildings offer unlimited lengths.
2.

Pure Design Freedom with Steel Vehicle Showrooms

The unhindered space of a clear span sales floor allows frequent juggling of models to keep the display fresh and inviting.

Of course, aesthetic design of a building also invites— or repels— buyers. Steel vehicle showrooms allow any exterior design required. Steel buildings adapt easily to brick, colorful steel panels, stone, stucco, tilt-up concrete, wood, or any other exterior material.

As sales volume increases, display volume may also need to increase. No problem. Pre-engineered steel building expansion is affordable, especially at the endwalls.
3.

Steel Buildings Cost Less to Build and Operate

No dealer ignores the bottom line when considering a new operation. So is a steel vehicle showroom affordable? Absolutely!

A metal vehicle showroom package can save thousands of dollars over other building systems.

Steel's superior strength means far fewer framing pieces build a much stronger structure, eliminating waste. State-of-the-art steel structural software creates the design quickly and economically, and to the dealership's exact specifications.

A RHINO steel showroom package arrives at the job site cut, welded, painted, drilled, and ready to assemble. Each piece is clearly marked with a corresponding number on the plan.

A RHINO commercial structure or steel vehicle showroom shaves about 33% off construction time. That is big savings for the dealership! Dealers usually find they can afford more building for their showroom budget with a pre-engineered steel building.

But initial construction cost is only one consideration when choosing the building system for a new dealership. What about the costs of operating and maintaining a steel vehicle showroom?

Actually, lower operating costs make metal buildings the perfect choice for all types of commercial and industrial structures.

Pre-engineered metal buildings save a lot of money over the building's lifetime:
WEATHER RESISTANT:

High-quality steel structures like RHINO Steel Building Systems include many value-added features to eliminate weather-related problems.

TERMITE-RESISTANT:

Unlike wood buildings, steel framing is impervious to termite or wood ant attacks. What creepy crawler can make a meal of steel?

DAMAGE RESISTANT:

Steel buildings stand up to Mother Nature's savage fury better than other building systems. A steel dealership enjoys extra protection from fire, lightning, mold, earthquakes, and strong winds.

LOWER INSURANCE:

The fire-resistant qualities of commercial grade steel receive significantly lower rates with most insurance companies, saving 25%-35% on insurance premiums.

TIGHT ENVELOPE:

Steel buildings create a much tighter building envelope than lumber-framed buildings. Steel innate strength preserves that draft-resistant envelope throughout the building's lifetime.

ENERGY EFFICIENT:

A properly insulated steel building slashes utility bills in half, saving thousands and thousands of dollars over the lifetime of the structure.

LASTS LONGER:

The longer a vehicle showroom endures, the less the overall cost. A steel structure last decades longer than any other types of building. It retains its great looks and value far longer, too.

MAINTENANCE:

Metal showroom buildings require very little maintenance, another cost-saver.
Showcase Your Best in a RHINO Steel Vehicle Showroom
RHINO Steel Building Systems delivers trustworthy, affordable, attractive structures suitable as steel showrooms for all types of vehicles, from autos and boats, to motorcycles and tractors.
Rely on RHINO to supply the most bang for the dealership buck. We ship our ready-to-assemble steel buildings all across North America for aircraft, agricultural, commercial, industrial, and vehicle dealership use.
Learn more RHINO's structures and service. Speak with a RHINO steel building consultant now. Call 940.383.9566 today to discuss your new dealership showroom— or any other low-rise construction project.
Try us just once, and you too will be HOOKED on RHINO!