PART 8: PREFAB METAL BARNS OUTPERFORM POLE BARNS
Our previous blog, "15 Reasons to Choose Steel Barns over Pole Barns," highlight some of the key benefits of choosing a pre-engineered metal barn or steel building over a pole barn.
This follow-up article, the last installment of an eight-part series, showcases an additional fifteen benefits of building your next barn or building with modern, pre-engineered metal building system— instead of the old-fashioned, antiquated wood-framed pole barn method.
Today's Best Metal Building System Vs. Yesterday's Methods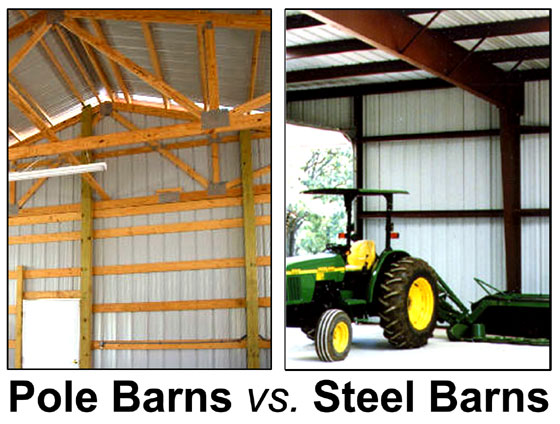 1. As pole barn lumber creeps and warps, wood fasteners loosen and the framing shifts and sags. The framing will need periodic, costly "straightening" every five to seven years. However, steel barns and buildings do not move. Fasteners stay tightly in place. Metal buildings and prefab steel barn buildings stay square and plumb year after year.
2. A pole barn usually lasts only 15-20 years— with frequent and expensive upkeep. Steel barns will last decades longer than pole barns— with virtually no maintenance.
3. Pole barns posts are buried in the ground, leaving them vulnerable to movement, rotting, and insects. Steel barns and metal buildings have concrete slabs, perimeter walls, or piers as part of steel building foundations, creating a stronger, more stable and permanent base to the structure.
4. Most appraisers do not count pole barns as permanent structures. A pole barn does not usually increase property value— and may even be a financial liability. Attractive, durable steel barns are assets, increasing property value. Prefab metal barns hold their value over decades of use.
5. In some locations, zoning prohibits pole-framed buildings. Where building codes are stringent, pole barns cannot make the grade. RHINO has never been refused a building permit for a metal building system— ever. RHINO includes full documentation, engineer-stamped plans, and Letter of Certification with every order.
6. Chemically treated lumber like that used in pole barns cannot be recycled. At the end of its lifecycle, wood framing is dumped into landfills. Steel, however, is the most recycled material on Earth. It can be recycled countless times and still retain all its intrinsic strength and durability, making it perfect for our prefab metal barns.
7. Pole barns generally use 29-gauge steel roof and wall sheathing— a cladding 30% lighter than the long-lasting 26-gauge Galvalume® steel panels of RHINO metal building systems and prefab metal barns. Even stronger standing seam steel panels in 24-gauge are available as an option.
8. The corrugation pattern of the metal sheathing available from most pole barn companies is only 5/8" deep. RHINO prefab metal barns include corrugated steel panels with a 1-1/4" deep pattern. That makes the panels of RHINO's metal building systems stiffer and stronger.
9. Pole barns traditionally use cheap steel sheathing called R-panels that have a minimum overlap from sheet to sheet. RHINO metal building systems use higher-grade purlin bearing rib (PBR) panels. PBR panels overlay farther than ordinary sheathing, making an even stronger connection— and reducing the chance of leaks.
10. In a pole barn, the steel exterior roof and wall sheathing panels attach to the wood framing. Since wood and steel expand and at radically different rates, the steel fasteners become loose— sometimes in as little as three years. Leaks become a problem and roof sheathing can shimmy and flap in high winds.
11. The steel-to-steel connections of metal roof panels, metal fasteners, and steel framing in RHINO prefab metal barns remain strong and tight, without leaks or deterioration.
12. Most wood-framed pole barns do not offer trim, gutter, and downspout options. RHINO metal building systems offer many premium options like steel trim, gutters, downspouts, mezzanine floor systems, doors, skylights, insulation packages, and more.
13. Typically, pole barns include no extra protection from leaking. All RHINO prefab metal barns include durable sealing washers on self-drilling screws, die-formed ridge caps, eave closure strips, and formed base trim to increase waterproofing for every structure.
14. Pole barns are much more likely to leak over time, as the framing shifts and the screws connecting the roof panels pull out of the wood framing. The steel-on-steel connections and the more stable framing of a metal building system make prefab metal barns far less likely to leak.
15. Most pole barn kits arrive with little or no instructions. RHINO ships every order with a detailed erection manual and an instructional video on DVD. Every part in the kit is marked at the factory for easy identification. Erecting RHINO steel barns is simple and efficient.
A pole barn is a temporary, high-maintenance choice. A pre-engineered steel structure creates a durable, maintenance-free, permanent structure.
Doesn't your project deserve the best? Call RHINO today at 940.383.9566 and get started on the metal barn or steel building of your dreams.
Related Blogs: