Comparing Metal Building Framing Systems
What is the best way to construct a steel building? Before you buy a metal building, explore the differences in weld-up, light-gauge steel, and pre-engineered steel structures.
Weld-up Steel Buildings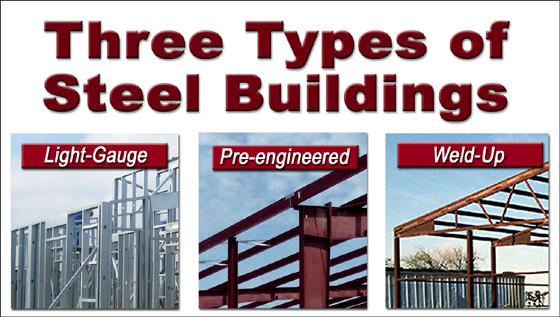 A weld-up metal building is built from scratch at the job site. The framing usually consists of reasonably inexpensive red-iron pipe purchased locally.
Also known as field-welded buildings, these structures work adequately for small storage sheds or as shade covers for livestock feeders in pastures— if constructed by competent and experienced professional welders. The framing connections are only as strong as the welds that hold them in place.
Weld-up buildings lack engineering to prove structural strength, so obtaining permits can be extremely difficult. Field-welded buildings typically offer no guaranty of structural integrity.
Like wood construction, field-welded buildings are extremely labor intensive. Every piece of steel is measured, cut, and welded into place by the builder.
Light-Gauge Metal Buildings
Light-gauge strives to bridge the gap between traditional wood framing and increasingly popular prefabricated steel buildings.
Light-gauge construction goes together the same way as a wood-framed structure, replacing wood studs with steel studs, and nails with self-tapping screws. Promising added resistance to fire, mold, and termites, light-gauge steel definitely triumphs over wood. Permitting should be easier to obtain for light-gauge steel structures than for field-welded buildings.
As a recycled material, light-gauge steel framing ranks as a green building material, too.
However, light-gauge steel framing does have drawbacks.
Light-gauge steel framing is even more time-consuming than building with wood. All framing is measured, cut with a steel chop saw, and connected with thousands of self-drilling screws.
As with wood, all the work must be done in the field. Every stud must be cut to length with a special chop saw. Every one of the numerous framing connections requires several self-drilling screws.
Lacking the strength of commercial-grade steel buildings, light-gauge structures require load-bearing interior walls at key locations, restricting floor plan options and hindering later remodeling.
While light-gauge steel framing is more consistent than wood, it still lacks the strength and dependability of a pre-engineered system.
The Pre-engineered Steel Building
A RHINO pre-engineered steel building system provides just that— a system.
Engineers certified for your location predetermine and verify every piece of the framing.
Highly-trained professional welders and fabricators create all the framing pieces in AISC-certified factories.
The commercial-grade steel framing kit arrives at the job site ready to assemble.
Framing erects quickly and easily, slashing construction costs.
Familiar with pre-engineered, commercial grade structures, local permitting departments usually green light building RHINO projects without hassles or delays.
As the most recycled material on earth, steel ranks high as a green building material.
The strength of commercial grade clear span steel buildings eliminates the need for cumbersome interior load-bearing columns, making them perfect for aircraft hangars, horseback riding arenas, huge barns, open-air pavilions, recreational structures, and warehouses.
RHINO's commercial-grade metal buildings include increased resistance to damages from earthquakes, fire, lightning, mold, snow, termites, and wind over other building methods.
RHINO structures sport a guarantee that the framing will meet or exceed all current loads and codes for the lifetime of the structure!
Test Our Metal!
Learn more about all the ways a pre-engineered steel building best fits your needs. Rely on RHINO's metal building specialists to answer all your questions, offer expert advice on steel frame construction methods, and provide fast, accurate quotes.
Our customers honor us with their return business— and reward RHINO through fervent referral— generating over 30% of RHINO sales in the last 12 months.
Call RHINO now at 940.383.9566 for the best deal in steel.