Steel Buildings in Tennessee
For metal buildings in Tennessee, RHINO Steel Building Systems delivers. Commercial business, agribusinesses, equestrian centers, manufacturing plants, and individuals trust RHINO's extra strong, long-lasting, affordable Tennessee steel buildings.
Built for Tennessee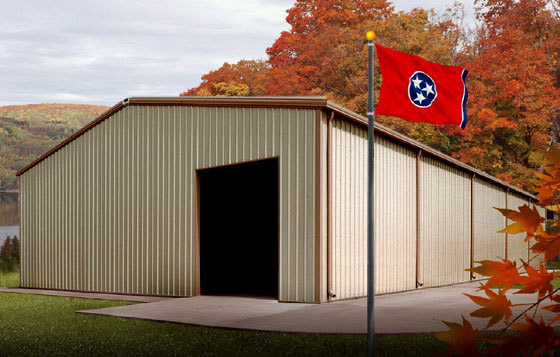 Tennessee experiences major tornadoes every year, and it often leads the nation in tornado fatalities. While no structure can be fully tornado proof, steel buildings in Tennessee are far less likely to sustain damage from high winds than other building materials. Steel offers the highest strength-to-weight ratio of any material, and our Tennessee metal buildings can be specifically built with tornadoes in mind. Wind-rated doors and windows, brick exteriors, minimal openings, and low building profiles can add extra protection for the most durable, tornado-resistant building available.
Tennessee also experiences 50 or more severe thunderstorms a year. RHINO metal buildings in Tennessee provide significant protection from damage caused by lightning, heavy rain, or hail.
Parts of the state — especially in the Great Smoky Mountains — must also deal with thick blankets of fog. With all that moisture, Tennesseans appreciate the many moisture-proofing and condensation–fighting features included with every RHINO steel building. Added ventilation can also be included in Tennessee metal barns, garages, and buildings. Overhead doors, extra windows (purchased locally), vents, and insulation combat humidity and protect against moisture buildup.
When moisture is present, it can lead to termite or mold problems in wood-framed structures. Inorganic steel is the material used for RHINO's metal buildings in Tennessee, which does not attract mold or provide fuel for the eastern subterranean termites which plague the state.
Metal Barns Tennessee
Many farmers and ranchers across the state rely on RHINO pre-engineered steel buildings for their structural needs. Tennessee metal barns are easy to erect and economical to operate.
Other steel buildings in Tennessee include barns, hay sheds, offices, livestock shelters, equipment shelters, horse stables, and indoor or covered riding arenas.
Tennessee Garage Builders
For metal garages, Tennessee chooses RHINO steel. Tennessee auto shops require the open space that steel buildings provide. Steel framing can be up to 150' wide with no interior columns or walls, as well as provide flexibility in floor plan options. Furthermore, steel buildings can accommodate large vehicles with ceiling heights of 40' or more. Auto repair can involve all kinds of machines that create sparks or flame, so Tennessee metal garages are the most fire-resistant option. RHINO Steel Buildings' Tennessee garage builders always meet all local fire codes.
Work with RHINO on Your Tennessee Metal Building
Call RHINO's manufacturers today at 940.383.9566 and experience the RHINO Difference. Our happy customers and customer referrals make up 30% of our business — proof that RHINO provides outstanding customer service that makes people want to return again and again. Get a quick quote from our specialists today to get started on your Tennessee steel building.