In the first two "Steel Buildings 101" articles, we discussed primary framing and secondary framing basics.  This last article in the series covers endwall framing.
Steel Building Endwalls: Post-and-Beam
There are three basic types of endwalls in pre-engineered metal buildings.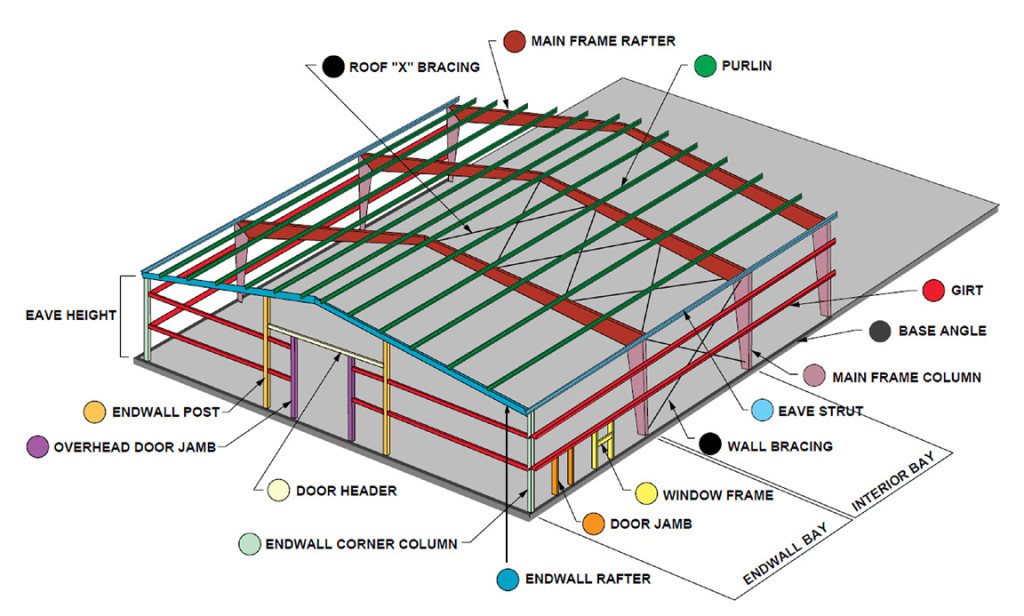 The RHINO standard building endwall illustrated at right is called a POST-and-BEAM endwall, or a BEARING endwall.  Endwall POSTS within the endwall help support the load.
The post-and-beam endwall only carries half the load of the bay, so lighter C-channel cold-rolled steel is used.  (The first interior frame supports the other half of the first bay, plus half of the bay next to it.)  For most applications, a post and beam endwall is the most economical choice.
Steel Building Endwalls: Expandable Rigid-Frame
An EXPANDABLE endwall allows for adding more framing to the structure later.  They employ heavier rigid steel I-beam columns and rafters like the rest of the primary framing.
The endwall is engineered to carry the load of half the adjoining bay now— plus another half-bay if extended in the future.  Additional framing ordered for remodeling will not require two endwalls.  The new metal building framing simply attaches to the existing endwall.  This saves engineering time and money on any future expansion project.
If additional floor space may be needed as the business grows, expandable metal frame walls are the smarter choice.
Expandable endwalls can be also completely open, if needed.  They require no load-bearing endwall posts and are typically chosen for buildings not completely enclosed.  Covered horse riding arenas, open-air pavilions, metal hay sheds, RV or truck storage sheds, boathouses, and steel aircraft hangars often contain an unenclosed endwall.  I
If a lot of glass is required, as in a storefront, expandable rigid-frame endwalls are the better option.
Expandable metal frame walls can be designed up to 150' in width.
Steel Building Endwalls: Non-Expandable Rigid-Frame
The third type of endwall is NON-EXPANDABLE.  It is engineered to hold the load of a half-bay.  Future expansion is more difficult and will require another endwall be ordered, increasing the expense of the expansion.
Expandable and non-expandable endwalls provide more flexibility in placement of large openings and overhead doors.
Post-and-beam endwalls require x-bracing or some other type of bracing.  Overhead doors must be "factory-located" during manufacturing.  Relocating large doors or openings isn't possible on a post-and-beam endwall.
However, expandable and nonexpendable endwalls allow doors or openings to be "field-located", or later relocated, as needed.  That's an important consideration if the building is use as a rental property.  One client may not overhead doors, while the next tenant may require shipping and receiving doors.
A Steel Building for Every Application
Please call with any questions about our metal building products.  RHINO has a solution for every low-rise metal building need:
Automotive or Welding Shops
Commercial / Office Buildings
Covered Horse Riding Arenas and Stables
Educational Buildings
Indoor Pools
Industrial Buildings
Manufacturing Buildings
Metal Agricultural /Farm /Ranch Buildings
Metal Barns and Hay Sheds
Multi-Purpose Garages
Outdoor Pavilions
Personal Workshops
Recreational /Athletic /Gymnasium Buildings / Sports Facilities
Restaurants
Retail Buildings / "Big-Box" Stores / Shops/ Strip Malls
RV Storage
Steel Aircraft Hangers
Steel Churches
Steel Warehouses
Storage, Self-Storage, and Mini-Storage Steel Buildings
Suburban Hobby Buildings
Transportation/ Trucking Buildings
Vehicle Dealership or Maintenance Buildings
Call today for a free quote: 940.383.9566.
Be sure and see Part 1 in this Steel Buildings 101 series devoted to primary framing and Part 2 on secondary steel framing.