Learning the Basic Parts of Pre-engineered Steel Buildings
Pre-engineered steel frame building kits dominate low-rise agricultural, commercial, industrial, and storage construction in today's market.
Why? Recent advances in design software are drastically minimizing engineering and manufacturing time, while maximizing productivity. Precise calculations adjust for the loads required on metal building frames and automatically design steel frame building kits with the most efficient use of components.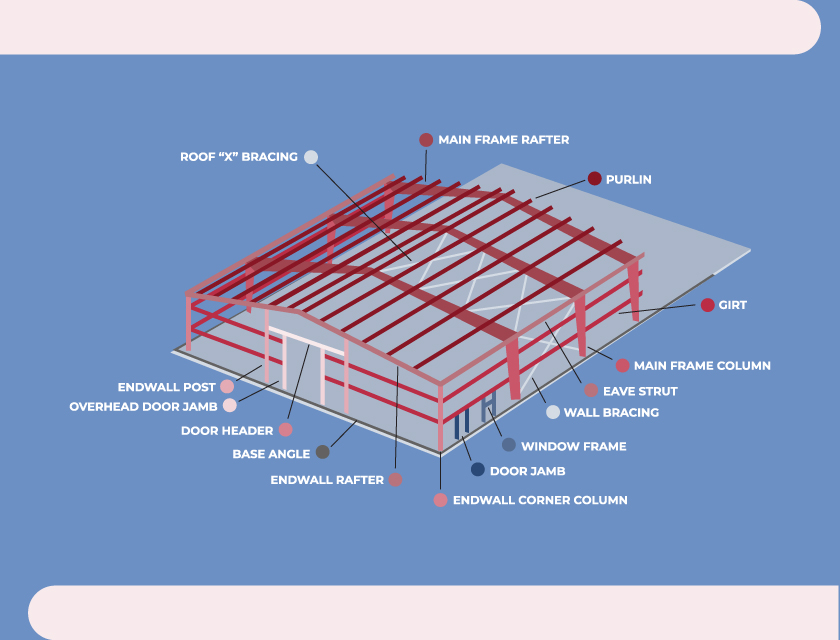 RHINO metal building packages arrive at the site with all the steel framing pieces prefabricated, clearly marked, and ready to assemble.  The metal building frames and parts are unloaded, sorted, and then connected with high-strength bolts and screws.  No cutting, welding, or drilling is needed.  Prefabricated steel frame building kits save time— and therefore money— on erection of the building framing.
This is great news for anyone in the market for steel frame kits.
Steel Buildings: Primary Framing
Here's a quick explanation of the various pieces of typical pre-engineered metal building frames.
The basic parts of pre-engineered steel frame building kits are called COMPONENTS.  The illustration above color-codes the components for easy identification.
The main support system of the structure is known as the PRIMARY FRAMING system.  When completely assembled, the entirety of metal building frames acts as a single unit.  It supports the weight or "load" of the entire finished structure, transferring it to the foundation.
The main structural supports act like ribs to support the weight of the building.  Attaching main frame COLUMNS and main frame RAFTERS together with large steel bolts creates the rib.
When the outside two columns and rafters are connected, they form a FRAME.  Each frame bolts to the foundation through factory-welded plates on the columns.
Frame spacing runs from 10' to 40', depending on design and required loads.  Typically frame spacing is 20' to 25'.  The distance between the frames is called a BAY.
The ENDWALLS are framed with CORNER COLUMNS and ENDWALL RAFTERS, with support POSTS as needed.  (There are several different types of endwalls, based on the structure and the planned use for the metal building.  The one illustrated above is typical.  See Part 3 in this series for more details on endwalls.)
We Invite You to Test Our "Metal"
This article supplies you with just a basic understanding of typical metal building frames and their function. Be sure to see Part 2 of Steel Buildings 101, which covers SECONDARY Steel Framing components, as well as Part 3 on ENDWALL options.
Call RHINO today for more information metal building part names, our steel frame building kits, and for a free no-obligation quote on your next metal building project: 940.383.9566.