RHINO steel building warehouses are a "green" way to build
In part 1 of this two-part blog on steel warehouse buildings, we gave you the basic needs to consider when buying a building.  Part 2 will continue showing why RHINO prefab warehouses are the ideal structures for warehousing and clear span buildings.
Sustainability and ecological-friendly building issues are important in the construction of any commercial or clear span building, including prefab warehouses.
Red-iron is an incredibly "green" construction material because of the high recycled content.  Steel is by far the most recycled substance anywhere.  The American Iron and Steel Institute reports that 80 million tons of steel are recycled every year in North America.  More than 600 steel cans are recycled every second, according to The Green Team organization.  They also report there is enough energy saved by steel recycling every year to supply Los Angeles with electricity for a full decade.  Steel is the only substance on the planet which can be repeatedly recycled and still retain all its original characteristics of strength.
The steel industry didn't just join the recycling movement in recent years; the Steel Recycling Institute states steel has been reused by North American companies for 170 years!
Since steel is intrinsically stronger than any other building material, it requires far fewer framing members to create a sturdy, durable frame.  Consequently, it goes up faster, saving both time and money on framing— and getting a warehouse operation up and running just that much faster.
The Real Test of a Green Building is its Energy Efficiency
Too many commercial building buyers get so focused on the building materials, they miss a salient point: commercial buildings account for 18% of all energy consumption.  Building with sustainable building materials is only a small part of green building.  The biggest savings come from using a high-quality insulating materials.
Did you know that warehouses in the U.S. spend about 70 cents per square foot for energy?  The Environmental Defense Fund numbers show $108 billion is spent annually by commercial buildings for utilities.
Energy Bills may be as much as 10% of a Warehouse's Total Revenues
Every energy-saving feature built into a commercial building helps saves the environment, but probably more impressive to the warehouse owner, it increases the bottom line.
Refrigerated warehouses use about 101,000 Btu per square foot— 2.8 times as much as non-refrigerated facilities— but only about 2% of all warehouses are refrigerated.  Warehouse and storage facilities use an astounding 664 trillion Btu of electricity within the building— about 8% of all commercial consumption— although they account for about 16% of all commercial floor space.
RHINO's prefab steel building warehouses can be extremely cost effective with proper insulation.  Our Pro-Value Insulation Package is highly recommended for operations who want to save big on energy consumption.
RHINO's steel building walls are very deep, so much thicker insulation may be used.  Walls can accommodate 9.5" R-30 insulation, while the roof cavity will hold a 12" double layer of R-40 insulation.  But insulation is only the beginning.  Vapor barrier fabric is installed, a washable fabric with double seams which is 300% stronger than ordinary metal building facing.  A second layer of insulation is added before the roof panels are installed, which acts as thermal break.
RHINO has had numerous reports of electrical bills slashed 40%-50% with Pro-Value insulation materials. Andy's Deli of Chicago is building a new meat processing plant and on-site delicatessen store in Endeavor, Wisconsin.  The company purchased four prefab building kits from RHINO for the project, over 28,000 total square feet and chose the upgrade Pro-Value insulation.
"My guys were amazed at the insulation package," says Jacek Zak, general manager and special projects director for Andy's Deli.  "We erected the framing of the first buildings last fall and worked inside during the winter.  The buildings were so well insulated with the Pro-Value insulation that we never had to heat the building all winter.  Honestly, it was unbelievable."  (In this area in Wisconsin, January and February temperatures average 20-30 degrees Fahrenheit.) Using highly-reflective "cool-coated" steel roofing panels available from RHINO will save even more energy, as they reflect 40% to 50% of the heat back into the atmosphere and away from the building.  Metal Construction News estimates installing cool-coated panels alone could save 7%-15% on cooling costs, while simultaneously extending the life of the cooling units and the roof itself.
Surprising, another simple way to save warehouse energy is the installation of big ceiling fans.  Studies have shown ceiling fans not only improve air circulation, but lower the temperature as much as 4.5 degrees Fahrenheit— much more than using large high velocity fans.
RHINO Structures Provide Better Protection from Termites, Water Damage, and Fire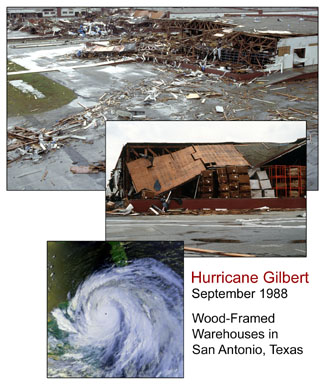 RHINO's prefabricated steel building warehouses provide many other benefits to a warehouse operation.  Steel is impervious to termites, wood ants, vermin, mold, and mildew.  It is built stronger, lasts longer, and is practically maintenance free.
High-quality metal building warehouses like those from RHINO include several waterproofing features, such as sealing washers on the self-drilling screws, base-formed trim for wall panels, die-formed ridge caps that conform to the roof panels for a tighter seal, and closure strips for eaves, base, and roof.  RHINO provides 26-gauge purlin-bearing rib-roof (PBR) steel panels with extra overlap for increased strength and even better waterproofing.
The strength of steel provides extra protection for prefab warehouses, their inventory, and their workers, from violent storms.  Steel is much more resistant to high winds, lightning, heavy rains and snows, and earthquakes than other clearspan building materials, especially wood.
Statistics from the National Fire Protection Association show there were 1,290 structural fires in warehouses from 2006-2010.  Four civilians were killed and 22 more were injured.  Damages to the warehouses and contents were $160.8 million.
Lumber is the number one first-ignited material in warehouse fires, accounting for 12% of the total fires; the structural framing is the second on the list of first-ignited items, accounting for 6% of all warehouse fires.
Steel, on the other hand, is non-combustible and cannot add fuel to a fire.  Since many warehouses handle flammable materials, this is an important distinction.
There are many options available to enhance the functionality and attractiveness of a RHINO prefab metal building warehouse.  Galvalume® louver vents, roof ventilators with bird screens, personnel doors, and skylights are some of the choices.  Overhead doors in cylinder and sectional styles with optional electric operators come in a number of sizes, while larger bifold and hydraulic doors may be used for even larger openings. Insulation for overhead doors can be added for greater energy savings on our steel warehouse buildings.
The exterior of the warehouse need not look like a plain box, but can be designed to present a professional presence which enhances the business image.  Exteriors can be finished in any material from high-strength steel panels in pleasing colors, to stone, brick, stucco, tilt-up concrete, glass, or even wood.  The look of the warehouse is limited only by the imagination of the buyer.
From a 5,000 square foot storage facility to a 500,000 square foot mega-warehouse, the best deal for material handling structures is prefab steel framing.
Need more information or a free quote for steel warehouse buildings or other metal clear span building projects?  Discuss your project now with a RHINO steel building specialist.
CALL RHINO TODAY TO LEARN ABOUT STEEL WAREHOUSE BUILDINGS: 940.383.9566.