Celebrating 21 Years as a Premier Steel Building Brand
With twenty-one years of successful operation behind us, RHINO steel buildings have earned a reputation of excellence.  By focusing on providing above-and-beyond customer service and high-quality metal building kits, we have gained a loyal customer base.
How do we know our customers are pleased with our products and service?  They tell us so with words of appreciation, referrals, and repeat orders.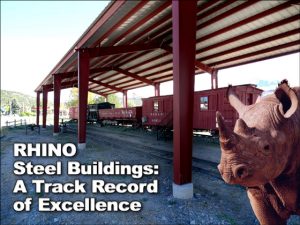 In our business, most people only order one metal building in their lifetimes.  Yet, in the last year, over 30% of our new orders originated from returning customers— or from those they have referred to RHINO.  We believe that speaks volumes about our track record.
Partnering with RHINO Steel Buildings
Our experienced steel building specialists understand the metal building industry.  They know our building products thoroughly.
Whether the project is a 1,000 square-foot storage building or a premier 1,000,000 square-foot warehouse, a RHINO customer receives the same courteous service and attention to detail.
We understand that every project is unique.  We do not use a cookie-cutter approach to metal buildings.
At RHINO, we believe in partnering with our customers to create the perfect buildings for their specific requirements.  We really listen to our customers.  Once we understand their vision, we can help them to choose the perfect building size and the right options for their buildings and their budgets.
Two Decades… and Counting
We look back on the last twenty years of RHINO metal buildings with both pride and wonder.  Thanks to the faithfulness of our customers, we've succeed beyond our wildest dreams.
Over the last two decades, many of our returning clients have become great friends.  Honored and humbled by their loyalty, we strive even harder to retain that trust.
Learn how much The RHINO Difference can mean for you.
Partner with RHINO Steel Buildings on your next low-rise building project.  We serve commercial, industrial, and personal building clients all across North America.
For more product details — and a free, fast quote on a premier steel building — call us today at 1.940.383.9566.
Try us just once, and soon you too will be hooked on RHINO steel buildings!