RHINO: The Symbol of Quality-Made Metal Buildings
When launching our fledgling metal building company in 1998, we choose RHINO Steel Building Systems for our company name.
Branding is important in any enterprise. We wanted an easily recognizable brand identification. It needed to represent the strength and toughness of our prefabricated steel buildings. We became hooked on the idea of a rhinoceros as a company symbol.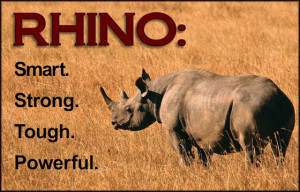 Today RHINO Steel Building Systems stands as a well-established name in metal buildings, with a reputation as a premier steel building brand.
The Rhino: Known for Strength and Durability
Did you ever see the John Wayne movie Hatari? If you have, you will never forget the exciting scene where they try to capture the rhinoceros. The strength and endurance of this powerful animal is awesome.
RHINO steel building systems maintain a reputation for strength and endurance, too.
Steel has the strongest strength-to-weight ratio of any building material. The durability of steel buildings is well documented. RHINO metal buildings stay strong for decades longer than other structures. And RHINO steel buildings retain their value much longer, too.
The strength of steel also means your structure has built-in resistance to damages from fire, wind, lightning, termites, mold, and earthquakes.
Rhinoceros: Big, Fast, Fascinating
Powerful, magnificent creatures, rhinoceroses can tip the scale at 5,000 pounds or more. The body of some rhino species reaches 15 foot in length. Rhino horns can grow as long as 50 inches or more.
RHINO metal buildings also have impressive stats.
Our structures clear span up to 300 feet. With minimal interior columns, RHINO modular steel buildings can stretch to 480' in width.
RHINO steel building systems can create towering building heights of 40'— or even higher on a custom quote.
Surprisingly agile, a rhinoceros runs as fast as 35 mph.
RHINO steel buildings are also known for speed. Erecting a RHINO metal building is simple and fast. Prefabricated RHINO structures reduce construction time by about 33%.
The Versatility of the Rhino
Just as there are many species and subspecies of rhinoceroses, RHINO metal buildings come in seven different framing styles.
Need a wide span structure for an aircraft hangar or a church sanctuary? Or economical modular steel building with minimal interior columns for your farm, ranch, or warehouse operation? What about a straight wall metal building for a medical office, a vacation home, or a commercial enterprise? You need a RHINO metal building.
RHINO Steel Building Systems supplies prefabricated steel framing for anything from residential detached garages and workshops to massive manufacturing plants and mega-stores. If you can imagine it, we can supply the steel framing package for it.
RHINO-Tough Steel Buildings: Built Strong to Last Long
Every low-rise construction project benefits from using RHINO steel building systems. Find out more about RHINO metal buildings today. Call 940.383.9566 for details and a fast, friendly building quote.
Try the RHINO steel building system for your next project. You will be hooked on RHINO for life.