Tips for a Safer Holiday this Year
Festive celebrations end in tragedy when holiday fires erupt. Following a few simple, sensible precautions can keep your holiday revels safe, merry— and fire free.
Holiday Fire Facts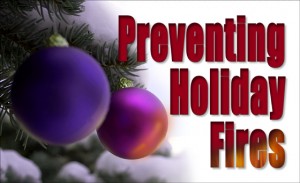 Before you peruse our holiday safety tips, let's look at a few serious statistics on holiday fires:
Structural fires increase dramatically over the winter months.
Of the five most dangerous days of the year for fire, four are over the end-of-the-year holidays: Christmas Eve, Christmas Day, New Year's Eve, and New Year's Day. (The fifth offender is Halloween.)
Cooking is the number one cause of holiday fires.
The U.S. Fire Administration reports that the number of open-flame fires doubles on Christmas Day and New Year's Day. These holiday fires also tend to be destructive, exacting thirty-four percent greater property damage than the average structural fire— and inflicting seventy percent more fatalities.
Holiday lights account for eighteen percent of all holiday fires.
December is the peak time for candle related fires in the U.S. In fact, there are four times as many candle-related fires in December.
Ignition starts in the bedroom in one-third of all candle caused fires.
According to National Fire Protection Association, electrical problems spawn thirty-three percent of Christmas tree fires.
One of every thirty-one Christmas tree fires turns deadly.
Twenty-five percent of Christmas tree fires originate from a heat source too near the tree.
Ten percent of Christmas tree fires result from someone playing with fire.
Fireplace-related fires cause seven percent of all holiday fires.
Preventing Holiday Fires
Smoke alarms save lives.
Install smoke alarms throughout the structure.
Make sure existing smoke alarms are working properly in homes and businesses. Test smoke alarms at least once a month.
Keep fire extinguishers up to date and handy and throughout the home or building— especially in kitchen areas.
Never hang decorations from building fire sprinklers!
Live Christmas trees can be explosive.
According to the Building and Fire Research Laboratory, flames can completely engulf a dry Christmas in only thirty seconds. Well-watered trees, on the other hand, resist ignition.
Fire-resistant artificial Christmas trees provided a much safer alternative to live trees.
Set live Christmas trees far from space heaters, radiators, vents, lights, or fireplaces, and beyond normal traffic paths.
Live garland and greenery should be at least three feet from any heat source.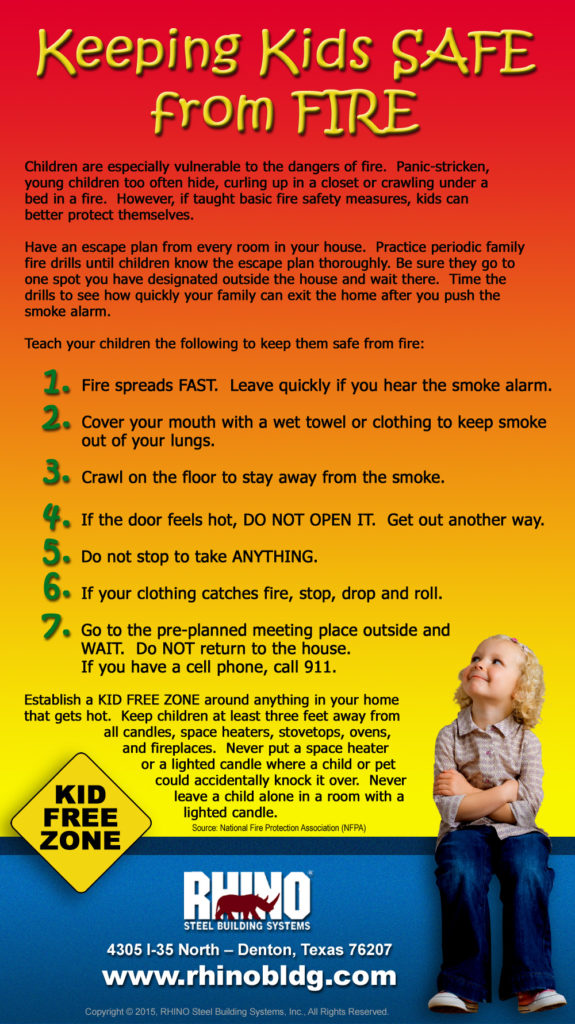 Festive candles bring an elegant glow to any holiday event. However, candles trigger over half of all holiday fires in homes.
To insure fire safety, keep at least a one-foot buffer from a lighted candle and any flammable materials.
Secure candles on heavy, stable bases.
Cover candles with hurricane-type glass globes for elegant, enhanced lighting— and greater safety.
Keep candles out of the reach of children and pets.
Allow only battery-operated "candles" in a commercial or office workplace.
Never mix candles with live evergreen decorations.
Never leave a burning candle unattended! Extinguish a candle before leaving the room.
Space heater use increases over the coldest days of winter.
Keep any heating equipment a minimum of three feet from flammable materials.
Enforce a three-foot kid and pet free zone around space heaters, stoves, ovens, and fireplaces.
No holiday festivity would be complete without scrumptious eats. But beware. Forty percent of home fires begin in the kitchen.
Forgetting about something simmering on the stove is the greatest fire offender.
Be vigilant during holiday baking and cooking, especially when children are nearby.
Deep fry turkey disasters turn flavorful birds into fiery infernos. Do all turkey deep-frying out-of-doors, and at least twelve feet from any structure.
Cheerful colored Christmas lights brighten up our holiday decors, inside and out. However, they can also be a fire hazard if not properly used.
Choose wisely when buying any electrical decorations. Buy only UL-rated Christmas lights and holiday décor.
Inspect all lights strands— old or new— for frayed wires, broken bulbs, and cracked connectors. Discard faulty light strings immediately!
Avoid hanging lights with staples, tacks, or nails which may damage the wiring and spark a fire.
Turn all lighted decorations off when going to bed or leaving the home or building.
At the office or business, appoint one person to make sure all decorations are turned off before exiting at the end of the workday.
While convenient for lengthening the scope of holiday lighted decorations, extension cords can also present a fire risk.
Use only well-maintained UL-rated indoor and outdoor extension cords.
Use no more than three strings of holiday lights per extension cord.
Be sure no extension cords lay where they create a trip hazard.
Never overload electrical outlets!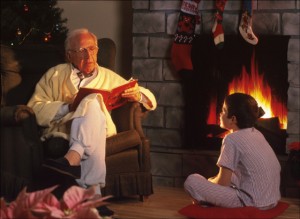 Is there anything more relaxing and mesmerizing than a cheery, crackling fire in the hearth? But fireplace blazes can quickly turn to catastrophe if not properly contained. Follow these fire safety tips on holidays and every other winter's day:
Have your chimney inspected in the fall and cleaned if necessary.
Use fire screens at all times.
Never open gifts near a burning fireplace.
Never burn discarded wrapping paper or boxes in the fireplace.
Sweep embers into an enclosed fireproof container and set it outside for at least twenty-four hours before disposing of the ashes.
In the hubbub of holiday parties and family get-togethers, it is hard to keep a constant eye on wound-up, inquisitive children. For safety's sake, put matches and lighters far from the reach of the little kiddos.
Fire-Resistant Steel Buildings
No structure is fireproof. However, steel is one of the most fire-resistant building materials available today.
The framing of a structure is the second most likely place for initial ignition in a structural fire. Steel is never the point-of-ignition in a fire.
Rigid-frame metal buildings are so fire-resistant, insurance many companies offer significant discounts on coverage for steel buildings.
Consider RHINO steel building for your next commercial or industrial construction project. For more information about the many advantages of pre-engineered rigid-frame steel buildings, call the RHINO hot line now: 940.383.9566.
We here at RHINO Steel Building Systems wish you and your family a safe and joyful holiday!