Facing the Heartbreaking Facts about Building Fires in the U.S.
According to the National Fire Protection Association (NFPA), structural fires accounted for 38% of all the 1,298,000 reported fires in the United States in 2014. Structural fires disrupt and devastate, stealing livelihoods, possessions, and sometimes lives.
Home Fires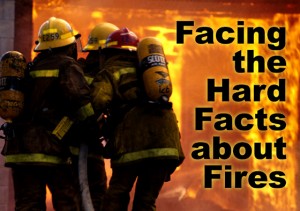 Residential fires account for 72% of all building fires, yet home fires cause 92% of all fire causalities.
Not surprisingly, the number one spot in the home for fire ignition is the kitchen. NFPA research finds that 43% of home fires start in the kitchen. Unattended cooking sparked 33% of those kitchen-based fires.
Cooking equipment ranks top-of-the-list for causing the most home fire injuries.
Smoking causes the greatest number of home fire deaths. Falling asleep while smoking factored into roughly 33% of smoking-related fires. Alcohol impairment is suspected in 19% of home fire deaths.
Heating equipment, electrical appliances, faulty electrical wiring, lightning, fireworks, and carelessness with candles are also other common sources of house fires.
While only 20% of house fires happen between 11 p.m. and 7 a.m., 51% of home fire fatalities fall within this timeline, while people are normally asleep.
Three out of five residential fire deaths occur in homes without functioning smoke alarms. Tragic fire deaths might have been avoided by simply keeping charged batteries in smoke alarms.
Non-Residential Fires
The NFPA estimates 137,000 fires last year occurred in non-residential buildings.
Statistical studies conducted by the insurance industry find fire to be the second largest cause of business insurance claims.
Businesses carrying insufficient insurance often fail to recover from a fire incident. That's why the Small Business Association (SBA) recommends business owners contact an insurance professional to help determine the replacement value rather than the cash value of the property.
Home-based business, too, need to be amply insured.
Building with Fire-Resistant Materials
When planning a new home or business structure, don't overlook the importance of choosing fire-resistant materials. While no building is fireproof, pre-engineered steel buildings deliver increased fire resistance.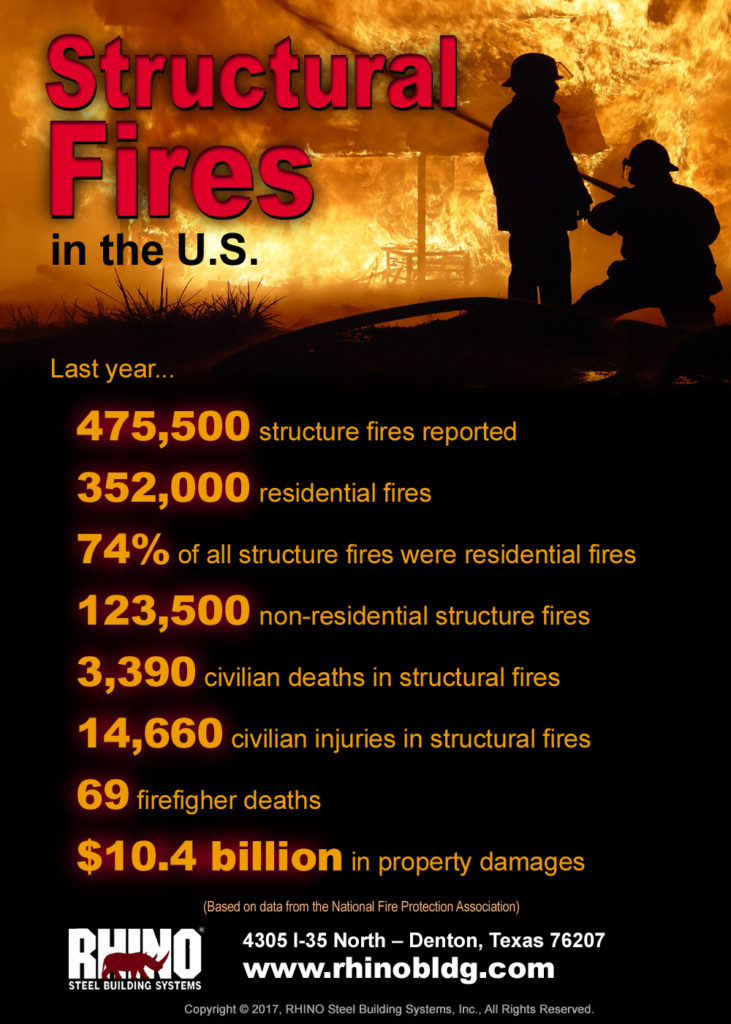 Framing is often the point of ignition in a structural fire. Steel framing will not ignite like a wood framing does.
Once a fire starts, wood framing supplies handy, combustible fuel to spread the fire. Non-combustible steel framing cannot add fuel to a structural fire.
As a poor conductor of electricity, wood explodes when struck by lightning. (That is why we are warned to stay away from trees in a thunderstorm.) A properly grounded steel building resists damage from lightning— another cause of fires— by passing the current into the ground. So fire-resistant is the commercial grade steel framing in pre-engineered metal buildings, such structures receive substantial discounts— 25%-35%— with many insurance carriers. Sprinklers systems provide additional fire protection for commercial and industrial buildings.
RHINO steel building customers use fire-resistant RHINO structures for churches, aircraft hangars, barns and agricultural buildings, offices, homes, and other commercial and industrial structures.
Learn more about the fire-resistant qualities of RHINO's prefabricated steel buildings. Call RHINO today: 940.383.9566. One of our knowledgeable metal building specialists will answer your questions and provide a quote for your next low-rise building project.