According to the latest figures, a restaurant can be a terrific investment.  And prefab steel buildings make excellent restaurants.
Food-service sales in the U.S. are $1.7 billion per day.  That's equal to about 4% of the gross domestic product.  The National Restaurant Association reports the total annual economic impact of the restaurant industry is $1.7 trillion.
Using a Prefab Steel Building to Start a New Restaurant
So you want to start a new restaurant.  Who will be your target market?
According to Entrepreneur magazine:
Generation Y young people (born 1980-2000) gravitate toward fast food burger franchises and pizza places.
Generation X adults (born 1965-1980) tend to frequent quick-service restaurants and mid-scale all-you-can-eat buffets.
Baby boomers (born from 1946-1964), the largest segment of the population, ordinarily prefer upscale dining and trendy restaurants.  However, boomers often choose family-style restaurants when with their grandkids.
Senior adults (65 and over) are inclined to dine at family-style restaurants with reasonable prices.
Trying to be all things to all people dilutes your focus.  It will ultimately fail.  Find your target market, and then focus on it like a laser.
Once you've selected your target market, choose a concept to entice that demographic.  Next you need to determine whether you want to be an independent restaurant owner or a part of a franchise.
Franchise restaurants have many advantages.  They offer brand identification, advertising, a pre-planned menu, and a pre-determined supply chain.
But as a franchisee, you have little latitude in changing anything in your own business.  Also, most franchises require an applicant to have substantial net worth and liquid assets.  Franchisees are required to pay a large initial investment to purchase the franchise.  Then the franchisee must also continue to pay royalties to the franchisor.
Next you need a detailed business plan.  Many restaurants fail in their first year of operation due to insufficient planning.
Part of your plan will be choosing a great location with lots of traffic— especially during meal times.
Find a neighborhood which reaches your targeted market.  You'll want a location that is easily accessible, in a safe neighborhood, with great visibility, and room for sufficient parking.  And it needs to be within your building budget!
(Check with the highway department to make sure there are no upcoming road construction projects planned for the area.)
Once your location is determined, it's time to get ready to build.  Consider using a prefab restaurant building from RHINO.
Steeling into the Restaurant Scene
Consider the benefits of building your new restaurant with a strong, durable, RHINO prefab metal building system.
Pre-engineered steel buildings work especially well for restaurants.
Steel is extremely strong, enabling framing to span large spaces without the need for support columns or load-bearing walls.  This allows total floorplan freedom in designing your restaurant and arranging its seating.  Standard RHINO metal buildings can span up to 150'.  Clearspan buildings of 200' or more are available on a RHINO custom order.
The inherent strength of a steel building provides greater protection from damage caused by hurricane-force winds, heavy snows, and earthquakes.  (See our recent article on Hurricane Sandy.)  When grounded correctly, a steel-framed restaurant also provides additional protection from lightning damage.
Since steel is not an organic material, it does not attract termites or mold.
Restaurant Fires: A Strong Reason for Using Prefab Steel Buildings
One of the strongest arguments for building a restaurant with RHINO prefabricated metal buildings is that steel is non-combustible.
According to FEMA (Federal Emergency Management Agency), an estimated 5,900 restaurant fires are reported each year.  Restaurant fires cause $172 million in property loss, several deaths, and approximately 75 injuries annually.
Cooking is the leading cause of fire in restaurants, followed by electrical malfunction or heating problems.  About 3.7% of restaurant fires are first ignited in a wall assembly.  But a fire cannot ignite structural steel, nor can steel add fuel to an existing fire as wood framing does.
On Wednesday, February 9, 2011, Andy's Deli in Chicago burned to the ground.  Over 100 firefighters fought the blaze.  (They were hampered by fire hydrants frozen by sub-zero weather.)
Andy's Deli is an established Polish sausage tradition in Chicago.  Loyal customers were horrified to find it gone.
Jacek Zak, general manager and special projects director for Andy's Deli, told reporters, "It's like a family to me. To experience this is devastating."
The company wanted to rebuild as quickly as possible.  They wanted to use a pre-engineered steel system to get the operation up quickly— and to have a more fire-proof structure.
Zak and the crew were so impressed with the experience they decided to build an upcoming project in Wisconsin with RHINO Steel Building Systems.  Slated to open in early 2013, the new facility includes a huge meat processing plant, offices, and a 2,000 sq. ft. retail store.  (See the artist's rendering of the project on the right.)
Prefab Steel Buildings are Green Buildings
Steel is by far the most recycled material in the world today.  It is easy and economical to separate steel from waste with electro magnets.  Best of all, steel can be recycled countless times and still retain all its original characteristics of strength.
Building a 10,000 sq. ft. restaurant, for example, would require the lumber harvested from about 200-250 trees for the framing.  That's about five acres of forestland stripped of trees.  The same restaurant could be constructed with the metal framing recycled from about 30-40 old scrapped cars— and maybe a couple of old washing machines.  What could be more eco-friendly than that?
The Savings Afforded by Pre-engineered Steel Framing
Steel is much stronger than wood.  It requires far fewer pieces to construct a stronger structure, reducing construction time— and therefore saving money.
With RHINO's prefabricated steel restaurant buildings, no welding is required.  The structural pieces are already cut to length, pre-punched, and marked for easy identification.  This saves additional time on the jobsite.  All the pieces arrive at the jobsite ready to be easily assembled with high-strength bolts, nuts, and self-drilling screws.  A RHINO steel building kit is like a life-sized version of a kid's erector set.
A prefab metal building can usually be raised by a smaller, less-experienced building crew, which saves even more.
Because steel is a non-combustible, commercial-grade building material, you can often receive discounted rates for builder's insurance and property insurance.  (Check with your local insurance agent for availability.)
Since metal building components are wider than ordinary 2×4 lumber, the exterior walls create deeper wall cavities.  This allows for the use of much thicker insulation, lowering utility bills.  RHINO's steel-framed walls can accommodate up to 9.5" thick (R-30) insulation and a double layer 12" thick (R-40) in the ceiling.  RHINO's Pro-Value insulation package also includes vapor barriers and thermal-break insulation.
The better the insulation package is, the greater the monthly savings.  RHINO customers report significant savings on their electric bills.
"My guys were amazed at the insulation package," says Jacek Zak, speaking about the Wisconsin project for Andy's Deli.  "We erected the framing of the first buildings last fall, and worked inside during the winter.  The buildings were so well insulated with the Pro-Value insulation that we never had to heat the building all winter.  Honestly, it was unbelievable."
RHINO's thicker insulation also cuts out a lot more outside traffic noise, making your restaurant much quieter, too.  That's especially important if you have a great location in a high-traffic area.
Our metal buildings not only last better, they hold their beauty and value much longer.  RHINO steel buildings are virtually ageless and practically maintenance free, saving money on costly repairs and upkeep.
The Story of One of RHINO Steel-Framed Prefab Restaurant Buildings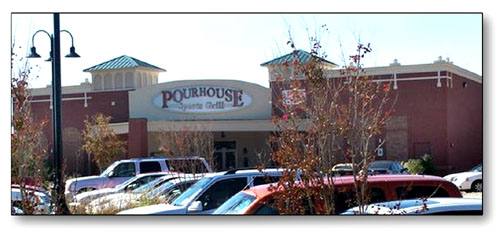 The Pourhouse Sports Grill in Denton, Texas, was built in 2007 with a prefab metal building kit purchased from RHINO Steel Building Systems, Inc.  Rick Moore, the owner of the Pourhouse, chose an excellent location for his restaurant.
The Pourhouse is situated in an upscale neighborhood on Unicorn Lake, just off an interstate highway between Denton and Dallas.
The commercial development includes luxury Tuscan-style homes, a hotel, a theater, shops, and several other restaurants, all located along the lake and connected by walking and biking trails.
In addition to being a restaurateur and entrepreneur, Mr. Moore is also a professional builder.  Moore knew exactly what he wanted for this project.
He needed a completely clearspan building that allowed an unobstructed view of the lake from every location in the restaurant and bar.  His design included a wall of glass facing the lake.  Moore also chose a ceiling high enough to allow for a two-story section in part of the building.
The restaurant seats just over 200 inside, and it has additional outdoor seating with a view of the lake.
The Pourhouse was built with a 100' x 110' RHINO metal building package that exactly fit Moore's vision.
Given that this is a building in Texas where summer temperatures often top 100 degrees, Moore also required higher-than-average energy efficiency.  He opted for the upgraded ceiling insulation package from RHINO, and then added rubber sealant over the entire roof for additional insulation and water protection.
Moore says he has been very pleased with how low his utilities have been— even though he runs a 100-ton air conditioning system for the restaurant.
The building also includes a business meeting facility and theater-style media room which seats 90 and contains four 55" flat screens and a 12' HD projector.
Moore chose an attractive brick exterior for the Pourhouse restaurant, but a RHINO metal building can be finished in any style required to fit the location and the personality of your restaurant.
Eating Out: America's National Pastime
More and more consumers are just too busy to cook.
They want to dine in or take prepared food home.  They want delicious food— but without investing the time for preparation, cooking, and clean up.
According to the National Restaurant Association, 88% of Americans enjoy going to restaurants.  (I guess the other 12% must have someone to cook for them.)
In recent surveys, 43% of Americans say eating at restaurants is an essential part of their lives.  Another 86% of adults said going to a restaurant was a great break from the monotony of their lives.
Thirty-seven percent of adults believe eating in restaurants, picking up take-out meals, and food delivery has increased their productivity.
Let's Eat Out!
Thirty years ago there were 155,000 restaurant and food-service operations in the U.S.  Today there are about 960,000.
In 1955 restaurant sales represented about 25% of every dollar spent on food.  Today that figure has almost doubled.
The restaurant industry employs 12.8 million Americans.  In fact, almost half of all adults in the U.S. have worked in the food-service industry at some point in their lives.  According to the National Restaurant Association, for more than 25% of adults in America, their very first job was in the food-service industry.
Apparently some people never get over the fever of that first job experience: 80% restaurant owners say their first job was an entry-level position in the food-service industry, while 46% of current restaurant employees dream of owning a restaurant someday.
Taking Your Own Bite Out of Restaurant Revenues
Take the advice of successful builder and restaurateur Rick Moore: build your next restaurant with a prefabricated steel-framed building from RHINO Steel Building Systems.
"The RHINO customer service support was excellent," says Mr. Moore, of The Pourhouse Sports Grill.  "I am very pleased with the whole experience and with the building itself.  I'll definitely use RHINO again for other building projects."
Jacek Zak of Andy's Deli agrees.  When asked why they chose RHINO steel buildings for the new facility, Zak said, "It was the time conception of metal buildings.  We needed a fast-moving process to build.  We want to build it ourselves, with our own crew, and the prefabricated steel building kit works well for our end use."
RHINO metal building systems are the best way to build for all low-rise commercial, industrial, and agricultural applications.  Whether you need an RV garage, a hobby house, a metal barn, an indoor riding arena, a manufacturing facility, a storage facility, a warehouse, an office building, an industrial building, a commercial structure, an aircraft hangar— or a restaurant— discover the benefits of RHINO prefabricated steel buildings.
We deliver RHINO building packages to all 50 states, Canada, and Mexico, from multiple convenient shipping points across the U.S.
For more information about RHINO prefab restaurant buildings for sale, please call today for your free quote at 940.383.9566.