Depend on Metal Buildings for Consistent Quality
No other building system delivers the consistent quality of rigid pre-engineered steel buildings. Unlike other building materials, steel's strength is utterly predictable and verifiable. No wonder steel so thoroughly dominates today's commercial and industrial new construction markets.
How Reliable are Wood and Concrete Structures?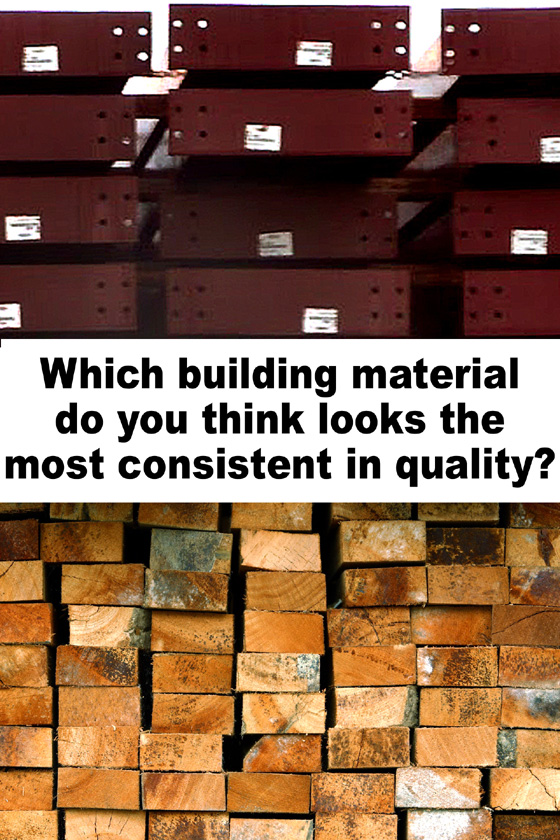 LUMBER: Not only do the characteristics of every tree species vary, every single tree differs from all others. Climate, weather patterns, soil conditions, and insect infestations all dictate the quality of wood garnered from individual trees. Once harvested, constantly changing moisture levels cause lumber to warp, bow, twist, and creep, further compromising quality. Consequently, accurately predicting lumber's reaction to stress is impossible.
CONCRETE: The strength of a pour-in-place concrete building rests on many variables: the properties of the cement mix, the local sand and gravel characteristics, the delivery system, weather conditions, and the capabilities of the concrete contractor. Concrete also shrinks and creeps as it dries. With so many variables, it is impossible to guarantee reliable results. Hence, cast-in-place concrete structures require sample testing four weeks after pouring.
Dependable Pre-engineered Steel Buildings
STEEL: As a man-made material, steel does not suffer from the irregularities of wood or concrete. Pre-engineered steel buildings take the inconsistencies and guesswork out of building:
Mills manufacture structural steel to exacting industry standards.
Relying on the predictability of steel, sophisticated 3-D computer-aided-design (CAD) software programs create a structure to exactly meet all stress and load requirements.
Meticulous engineering accurately determines the right amount of steel needed— no more and no less.
Eliminating waste, pre-engineering produces a strong, durable structure at an affordable price.
Steel fabrication shops manufacture the metal framing to the engineering specifications and tight industry tolerances.
Rigid steel framing remains unaffected by changing humidity, too.
Pre-engineered steel buildings go up straight and true, and remain so for the lifetime of the structure.
RHINO RELIABLE METAL BUILDINGS DELIVER
RHINO's steel buildings beat all other low-rise building systems on practicality, price, and performance.
Every steel component of a prefabricated RHINO steel building performs exactly as designed, supporting known weights at specific spans.
How certain are we of the reliability of RHINO steel buildings?
Each RHINO steel building meets, or exceeds, every current local load and code requirement—guaranteed for the lifetime of the structure! You will not find a concrete structure or wood-framed building with that type of confidence!
Speak to a knowledgeable RHINO metal building specialist today about your next building project. Discover why so many customers depend on RHINO project after project— and happily refer their friends and family to RHINO, too.
Please call RHINO today for a free, no-obligation building quote. Someone is available to answer your questions about our reliable metal buildings at 940.383.9566.