Get the Latest Buzz on RHINO-Tough Metal Buildings
RHINO Steel Buildings began with a simple philosophy: treat every customer like you want to be treated— with honesty, integrity, and respect. We believed a superior product and over-the-top customer service would not only garner repeat sales, but would encourage customers to spread the word about RHINO metal buildings. It worked.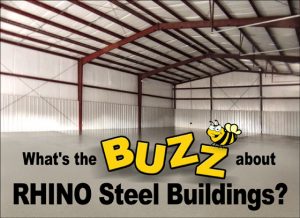 In the past year, 30% of RHINO's prefabricated metal building orders came from repeat customers and their referrals.
Just look at these ecstatic RHINO building reviews made by our buyers:
What People Are Saying About RHINO Steel Buildings
"My third building that I have built and I am not a contractor. This is my first RHINO building; they use the best hardware and red iron that I have seen and [it was a] very easy build." —Steve Hopkins
"It's a good value. The RHINO buildings go together so easily. Everything you need shows up on the truck. It's a very smooth process from start to finish… I always have several projects in the bidding process with RHINO." — Lee Ramsey, Links Construction
"I am very pleased with the whole experience and with the building itself. I'll definitely use RHINO again for any other building projects." — Rick Moore, Pourhouse Sports Grill
"The building went up without a hitch; everything bolted up with little effort." — Jay Welden
"We needed a fast-moving process to build. We want to build it ourselves, with our own crew, and the prefabricated steel building kit works well for our end use. My guys were amazed at the insulation package… Honestly, it was unbelievable." — Jacek Zak, Andy's Deli
"We could not be happier with the way everything came together and this new arena will be a source of pride for the Smith County Owls and our community." —Chuck Gentry
What People Are Saying About RHINO's Service
"This is a top notch company as far as I'm concerned!!!" — Kirt Techmeier
"Very professional; very knowledgeable staff." — Johnny Corry
"They went above and beyond to meet our expectations. We had constant communications with our salesman… I would HIGHLY recommend them." — Ray Hulten
"Friendly and helpful staff. All around good customer service experience." — Nate Marks
"We at the Ridgway Railroad Museum have gotten many compliments on our new train shed… The RHINO folks were most helpful." — Karl Schaeffer
What People Are Saying About Our Company
The Better Business Bureau gives RHINO Steel Building Systems an A+ rating. Our customers agree with the BBB assessment:
"I'm a very satisfied buyer of RHINO Steel buildings… This is my third building from RHINO… I couldn't be more pleased with my RHINO buildings." — Bob West, Armetco
"Once I started using RHINO, I stayed with them. They are great about order details… Their quotes are expertly done and thorough, so I can depend on them." — Lee Ramsey, Links Construction
"I would recommend without hesitation." — Joe Reid
"RHINO has been upfront and honest with us since our first contact… We are pleased with RHINO and would recommend them to anyone looking to buy steel." — Willis Ponds
"I have and will continue to recommend this company." — Sean Densmore
Join the customers who love their RHINO Steel Buildings. Call RHINO today at 940.383.9566 with your next building project.
For more comments from our customers, see the RHINO Testimonials Page.