How to Increase Profits for Your Self-Storage Facility
There are three times a mini-warehouse business should consider expansion:
1. When the current facility reaches 85% to 90% occupancy
2. When newer, more upscale self-storage competitors move into your market
3. When the demographics in your market change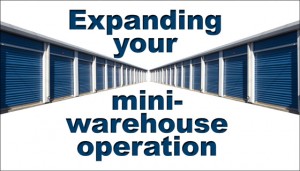 PLAN AHEAD: Do not put off expansion until your facility maxes out at 100% occupancy and you must start turning customers away. Building projects take time. Begin planning and executing your expansion plan in preparation for increased business.
WATCH the COMPETITION: Self-storage is a highly competitive market. The competition has an eye on your clientele. If a new mini-warehouse business in your market offers a more attractive facility, a more convenient location, and better amenities than your operation, it is going to cost you.
KNOW YOUR MARKET: Markets change. Your self-storage business must evolve with your marketplace to thrive. Large businesses move in and out. Populations alter or age. Demographics transform. That old saying is true: "You snooze, you lose." Keep abreast of market shifts in your area.
How to Expand Your Mini-Warehouse Operation
The obvious choice for expansion is adding more rental units, space permitting. But what type of units would best fit your market? Consider these questions:
Are baby boomers a significant part of your market? As baby boomers retire, downsize, move, or join multi-family households, you may find an increase need for larger units.
Are there popular parks and lakes nearby? Perhaps there is an increased need for RV and boat storage.
Are upscale housing developments underway in your area? Consider renovation. Updating the look of your facility may attract clients that are more discriminating.
Is there an influx of larger businesses? Many businesses now find self-storage an inexpensive way to store documents. These businesses will want easy access, strong security, and climate-controlled facilities to protect documents.
Are small businesses dominating the local market? Often smaller business— particularly startup operations— have very limited space. They find self-storage a handy way to store products or surplus, creating more room in cramped locations.
Is there a military base nearby? The military generates 10% of self-storage rentals. Ebbs and flows of military bases will definitely affect your facility.
These are just a few examples of how changing markets create a need for adaptability in a self-storage operation. Knowing your market is the key to maximizing profitability and properly exploiting warehouse renovation.
Expanding a Mini-Warehouse Operation with Steel Buildings
Self-storage facilities build almost exclusively with pre-engineered steel buildings. In fact, over 50% of all low-rise (one or two-story) commercial construction projects build with steel.
Steel buildings are more versatile, durable, and attractive. Steel structures are stronger, safer, and eco-friendly than other building systems. Metal buildings cost far less to construct and operate than other structures.
RHINO Steel Building Systems offers a premiere structural system at an affordable price.
Our structures ship all across North America. Multiple shipping options across the U.S. provide significantly lower freight costs.
RHINO also offers numerous options for economical customization of any project to make warehouse renovation and expansion easy.
Don't delay. Call RHINO today. Our experienced and trained metal building specialists will assist you in mini-warehouse building or expansion projects. Call 940.383.9566 now for more information and a free quote.