Eco-Friendly Metal Buildings and Mini-Warehouses
Environmentally conscious builders, developers, and investors overwhelmingly turn to pre-engineered steel buildings when planning green self storage projects. Building mini-warehouse businesses with steel structures cuts building costs, reduces operational costs— and delights eco-friendly customers. What could be better?
The Green Qualities of Steel Self Storage Buildings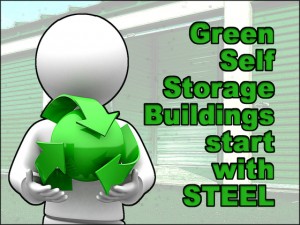 To meet green guidelines, a building material is examined for its recycled content and its recovery rate.
As the most recycled material on the face of the earth, steel is the epitome of green building. There are three reasons for the high success rate of recycling steel:
1. The recycling steel pipeline and infrastructure has withstood the test of time. North American steel companies have been incorporating old steel in the creation of new steel for over 170 years.
2. Recycled steel's strength never changes. Steel is the only material which maintains all its strength though infinite recycling.
3. Steel's magnetic qualities make it easy to handle. Electromagnets swiftly move discarded appliances, dismantled bridges, junked automobiles, retired ships, and other steel scrap. Magnets quickly and economically separate steel from other debris, too.
All steel self storage structures contain recycled steel. Structural steel contains as much as 90% recycled steel.
Steel is 100% recyclable.
Steel scrap has value. Crucial in the production of new steel, the industry constantly collects used steel. The recovery rate of steel far surpasses all other materials.
Building Green with Steel Actually Saves Money
The environmental cause is both worthy and noble. However, the bottom line still rules in construction— including self storage projects. If a building material or system scores high environmental points— yet costs significantly more— it fails to win a cost-conscious builder's heart.
Fortunately, pre-engineered steel buildings do not threaten the self storage building budget. High-grade metal building systems are economical to build and are ideal for eco friendly storage buildings.
Each metal building order is designed specifically for the client's specifications and for all current local building codes. Reputable steel building companies include letters of certification and plans stamped by an engineer licensed in that state.
Steel's superior strength allows a highly stable structure to be built with far fewer pieces, which save building time. Lighter total framing weight means less concrete, saving money on the foundation, too.
Since everything arrives cut, welded, drilled, marked, and ready for assembly, eco friendly storage buildings can go up fast. Typically, a top-quality pre-engineered steel self storage structure slashes 33% off construction time. Faster construction means less outlay for payroll— and builder's risk insurance.
Beyond Building a Green Self Storage Business
RHINO steel building systems produce stronger, more durable mini-warehouses. Steel self storage owners enjoy benefits like these:
• Extremely low maintenance
• Built-in resistance to damage from fire, lightning, wind, snow, earthquakes, and termites
• Long-lasting structures which hold their beauty and value decade after decade
• Substantially lower insurance premiums
• Pro-value insulation packages save 50% on heating and cooling costs in climate-controlled self storage facilities
RHINO Steel Self Storage Structures
Discover the reasons green mini-warehouse builders and owners choose RHINO Steel Building Systems:
• Commercial-grade steel framing
• Factories located all across America for reduced shipping costs
• Clear span framing to 300' wide
• Quick delivery— usually 4-7 weeks from order date
• Welded clips on girts and purlins for easier assembly
• Self-drilling screws with waterproof seals for quicker erection
• Closure strips and other superior waterproofing features
• Formed-base trim for better durability
• Die-formed ridge caps for stronger roof peak sealing
• Numerous optional building products that ship with framing
• Detailed installation manual and construction DVD
• Anchor bolt plans
For more information on constructing green steel self storage structures, speak to a RHINO metal building specialist today. The RHINO number is 940.383.9566.