RHINO'S DIE-FORMED METAL RIDGE CAPS LOCK OUT DRAFTS, RAIN, AND PESTS
Ridge caps are the most critical step in enclosing a steel building roof system. Running along the peak of the roof, metal roof ridge caps connect the two adjoining steel roof panels on either side of the roof seam.
Inferior metal ridge caps— or poorly installed ridge caps— mean constant headaches for the building's owner.
The Disadvantages of Flat Ridge Caps
The standard ridge cap used by most pre-engineered steel building companies is the flat ridge cap.
Steel roofing panels are ribbed, not flat. Consequently, flat metal roof ridge caps cannot seal tightly.
Flat ridge caps must be laborious bent by hand.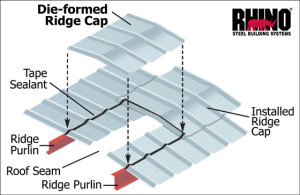 Air wafts beneath the flat metal ridge cap, causing drafts in the structure.
Wind-driven rain pushes between the steel panel ribs. Blowing beneath the flat ridge cap, rain leaks into the building, dripping on insulation and the contents of the structure.
Mice, rats, birds, and bugs travel at will through the gap between flat ridge caps and the roof panels.
Some companies offer foam closure strips to fill the gaps between flat metal roof ridge caps and corrugated roof panels. Weather deteriorates cheaply made closures rapidly. Mice chew holes in the foam. Birds peck out chunks closure strips to build their nests.
So what is the alternative to flat metal ridge caps?
The Advantages Of Die-Formed Metal Ridge Caps
RHINO's die-formed metal roof ridge caps match the profile of the steel roofing panels exactly.
Our die-formed metal ridge caps are made in the same steel, gauge, tensile strength, and color as the roofing panels. Rolled by the same equipment that creates the shape of the roofing panels, these ridge caps are then die-formed to match the pitch of the steel building.
RHINO die-formed ridge caps fit snuggly with steel roofing panels, attaching metal-to-metal with self-tapping screws. Applying high-quality tape sealant adds a further waterproof barrier between the ridge cap and the steel panels.
The result is an attractive steel building with a tightly sealed metal roof. Die-formed metal roof ridge caps help create a structure with years of trouble-free service.
Die-formed ridge caps force exact position of steel panels. Many builders find installing die-formed ridge caps as they install steel panels helps to keep the roofline square and perfectly positioned.
Die-Formed Metal Roof Ridge Caps— At No Extra Cost
Some building companies offer die-formed ridge caps as a costly upgrade. RHINO includes premium die-cast ridge caps with every standard order at no extra charge. In fact, RHINO's steel building standard package includes many features not available with cut-rate metal buildings.
Discover why so many people trust RHINO for their steel building needs. Call today and discuss your next project with a RHINO steel building specialist.
RHINO offers the best deal in steel for agricultural structures, aviation buildings, commercial structures, industrial buildings, residential garages and structures, storage buildings, and warehouses.
Call RHINO now at 940.383.9566 to get more info on our ridge caps for metal roofs.