Combating Hot Summers with Cool Steel Buildings
When designing a pre-engineered metal building project in a hot southern climate, it pays to plan ahead for heat extremes. Today's steel building systems offer several prefab building insulation options to help keep you cool during the summer.
Current Heat Waves Stifling the Southwest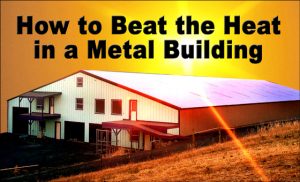 In the last ten days, extreme heat crippled parts of the U.S., shattering previous record temperatures:
Death Valley hit 127° Fahrenheit.
Needles, CA temperatures rose to 123°.
Las Vegas' mercury shot to 117°.
El Paso, TX reached historic June. temperatures, as high as 112°.
Phoenix's temperature soared to 120°.
The sweltering heat forced Phoenix airports to cancel dozens of flights. The overloaded power system in southern California succumbed to the sweltering heat, inflicting large power outages on millions. One four-lane highway near Sacramento, CA actually buckled under the extreme heat!
More than simply inconvenient and uncomfortable, scorching temperatures are also deadly. According to the Centers for Disease Control (CDC), heat kills over 650 people on average each year in the U.S. Some experts believe that number may be conservative, since extreme heat often brings on cardiac events and other medical emergencies, too.
Preparing a Metal Building for Extreme Heat
When ordering steel buildings for heat-prone southern regions, consider your options carefully. Making the right choices keeps the structure more comfortable—and more energy efficient.
Roof Color: Never underestimate how much roof color makes under the hot summer sun. On a 90° day, the surface of a white roof may reach 110°, while the black roof next door shoots up to 190°! Lighter-colored roofs perform best in extreme heat.

Cool-Coated Roofs:

Cool-coated steel roofing boasts a baked-on finish of highly reflective paint. These clever panels not only reflect sun and heat, but also bounce radiation away from the roof. Consequently, the building absorbs less heat, summer energy consumption drops up to 15%, and the urban heat island effect is diminished. The array of vivid color choices brings pizazz to a metal building project.
Insulation System: A rigid-frame metal building system creates deep wall cavities, allowing room for ultra-thick insulation. Top-of-the-line insulation systems also include thermal breaks and extra-strength vapor barriers for even greater energy efficiency. RHINO Steel Buildings' Pro-Value Insulation Package, for example, delivers extreme heat protection while cutting summer energy bills in half.
Beat the Heat in a RHINO Steel Building
Contact RHINO today for more details constructing a super energy-efficient metal building in a heat-challenged location. Our building specialists answer all questions, provide quotes, and offer expert advice on steel building construction in hot climates.
Call RHINO now at 940.383.9566 to learn more about prefab building insulation.