Commercial Applications for Steel Multi-Purpose Structures
In a recent post, we focused on large garage/storage buildings for homeowners. However, many commercial enterprises also benefit from building pre-engineered steel industrial storage buildings.
Vehicle Shelters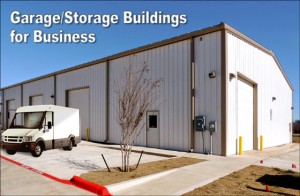 Many businesses require delivery vans or trucks to transport their products. Caterers, florists, furniture stores, medical suppliers, office supply companies, party planners, printing companies, and the like depend on their vehicles to keep their businesses rolling.
Commercial trucking companies also own fleets of vehicles.
Without the protection of a garage, delivery vehicles and trucks are vulnerable to damage from sun, rain, snow, hail, vandalism, and theft.
Vehicles used for transporting people also represent a significant investment.
Day care centers, nursing homes, private schools, and retirement centers own passenger buses and vans.
Many non-profit institutes like churches and synagogues use buses and vans to gather their flocks for services.
Every school has a fleet of buses to transport students. Sports teams have buses to convey them to games.
The criminal justice system maintains buses and vans to move prisoners from jails, to courts, to prisons.
Protecting those vehicles from weather, damage, and loss is the fiscally responsible thing to do.
Storage Space and So Much MORE
Investing in combination garage/storage buildings provides safe havens for commercial delivery vans and trucks— plus added SPACE.
Expansive steel buildings allow room for vehicle maintenance. In addition, the structures offer cover for landscaping equipment, climate-controlled office space, records storage, overflow or seasonal inventory, supply storage, and warehousing.
Steel: The Strongest, Safest, Smartest Way to Build
If your business depends on your vehicles, consider the convenience and protection afforded by steel-framed multi-purpose structures and garage/storage buildings.
Business owners with large fleets of vehicles should consider steel-framed shade structures or industrial storage buildings for their vehicles.
Pre-engineered steel structures supply garage/storage buildings with benefits not available with other building systems. (See "6 Reasons Spacious Steel Garages Rule" to see some of the many advantages of choosing steel construction.)
RHINO Steel Building Systems delivers custom garage/storage buildings, commercial structures, aircraft hangars, barns and agricultural structures, and other sturdy steel buildings all across North America. Every RHINO structure ships from the nearest of multiple manufacturing facilities, to keep freight costs low.
Each structure is designed to fit the customer's specific requirements— and local building codes. Each RHINO building arrives at the job site with all the framing components marked for quick, easy assembly.
For more information on generously sized garage/storage buildings and other metal structures, please call RHINO today. Speak with one of our experienced and skilled metal building specialists. They will help you plan the perfect structure for your unique business needs and budget.
You may reach RHINO with questions about industrial storage buildings: 940.383.9566.