The Advantages of Building Healthcare Facilities with Steel
As the multitudes of baby boomers march relentlessly toward 65, the need for more medical buildings increases, year by year.
In 1950, 12.3 MILLION people in the U.S. were 65 or older
In 2000, the number of senior Americans swelled to 25.0 MILLION.
By 2030, after the last of the baby boomers hits 65, the senior ranks will swell to 72.1 MILLION.
By 2050, the number of Americans 65 or older is expected to be 88.5 MILLION.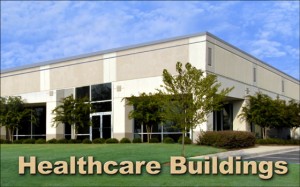 Obviously, the healthcare industry needs to adapt quickly to provide adequate care for the graying population.
Pre-engineered steel buildings provide distinct advantages for medical facilities.
FLEXIBILITY and EXPANSION:
As the healthcare field evolves and adjusts to meet the burgeoning demand, services and systems must become increasing efficient. Consequently, facilities built today must be able to reconfigure quickly and easily.
Steel's superior strength allows pre-engineered metal framing to be freestanding. Clear span steel buildings contain no load-bearing walls or interior columns to constrain floor plan adaptability.
With health needs skyrocketing, investors should plan new medical facilities with expansion in mind. Pre-engineered metal buildings allow fast and affordable expansion. Adding steel frame bays at either endwall is simple and economical. Only lot size limits growth.
Prefabricated steel's faster construction minimizes disruption of business.
ECONOMICAL OPERATION:
Healthcare is a business like any other: inflated overheads devour profits.
The thicker wall cavities created by steel columns leave room for much thicker insulation. Investing in premium insulation system reduces heating and cooling costs as much as 50%. Reflective metal roofing options cut utilities even more.
Top-of-the-line insulation blocks more outside noise, too, creating a much quieter building.
Steel buildings require very little maintenance, saving even more. Steel does not rot, warp, sag, or twist like wood framing. As an inorganic material, steel framing repels mold, mildew, and termites.
The fire-resistant properties of commercial steel garner substantial discounts on insurance premiums, further reducing operating expenses.
SOUND INVESTMENT:
Pre-engineered steel medical buildings cost less to building than other systems. Typically, the larger the structure, the greater the disparity found between cost-efficient steel structures and other building methods.
Factory-produced under strict quality control standards, pre-engineered steel framing erects quickly, slashing construction by 33% or more.
Steel buildings typically out-last, out-perform, and out-sell other buildings. They retain their appearance and value far longer. The simplicity of interior modifications makes steel buildings easier to lease or sell, if the need arises.
UNLIMITED STYLE OPTIONS:
The "industrial look" most associated with low-rise steel buildings is just one option for exterior design. Finish prefabricated metal buildings in block, brick, stone, stucco, tilt-up concrete— or in any combination of these elements. Steel's self-supporting frame permits large expanses of glass, too.
ENVIRONMENTALLY SOUND:
See our next blog for the eco-friendly attributes of pre-engineered steel medical buildings.
Call RHINO Steel Buildings at 940.383.9566 now. Get a free quote on your next building project. Discuss your plans for building any of the following senior-driven service structures:
• Acute care centers
• Dental offices
• Diet and nutrition centers
• Health food stores
• Healthcare facilities
• Hospice service offices
• Medical diagnostic centers
• Medical labs and testing buildings
• Medical supply stores
• Medical treatment offices
• Nursing homes
• Outpatient care facilities
• Pharmacies
• Physical therapy facilities
• Physician offices
• Senior daycare facilities
• Senior retirement centers
• Urgent care clinics