Graying U.S. Population Will Require More Healthcare Facilities
As the largest generation of Americans in history hits the "golden years," the healthcare industry will require an increasing number of medical buildings. Aging baby boomers will require more clinics, nursing homes, pharmacies, physical therapy facilities, physician and specialists offices, testing facilities and labs, and urgent care offices for treatment.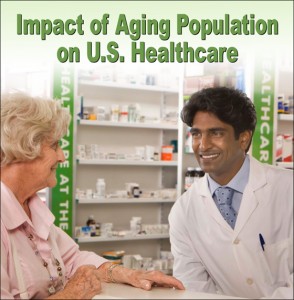 "Baby boomers"— those born between 1946 and 1964— are the largest segment of the U.S. population, 78 million strong.
Baby Boomers: A Generation Changing the Face of Medical Care
As a tsunami of baby boomers surges into their senior years, the healthcare industry faces several challenges:
SENIOR POPULATION: The sheer number of senior citizens will burden the already stretched healthcare system. Boomers began topping age 65 in 2011. By 2030, one in five Americans will be over 65.
MEDICAL-WORKER SHORTAGE: Many of those currently in the healthcare workforce are baby boomers. As healthcare boomers retire, they will lead gaps in the number of skilled medical personnel. With fewer people entering the healthcare field, the shortage of trained medical workers will rise. Geriatric physicians, specialists, nurses, and licensed caregivers will be especially scarce.
BOOMER HEALTH: Overall, we baby boomers do not do enough to stay healthy. Many boomers already suffer with chronic diseases. As diabetes, obesity, arthritis, and other chronic problems increase among the retiring generation, demands on the healthcare system will mushroom. Many boomers may battle multiple chronic health issues. Medical costs may skyrocket, forcing up insurance rates.
LONGEVITY: America's rising life expectancy widens the breach between healthcare supply and demand. When Medicare launched in 1966, life expectancy in the U.S. was 70. By the time the last of the baby boomers turn 65, the average lifespan will be 84.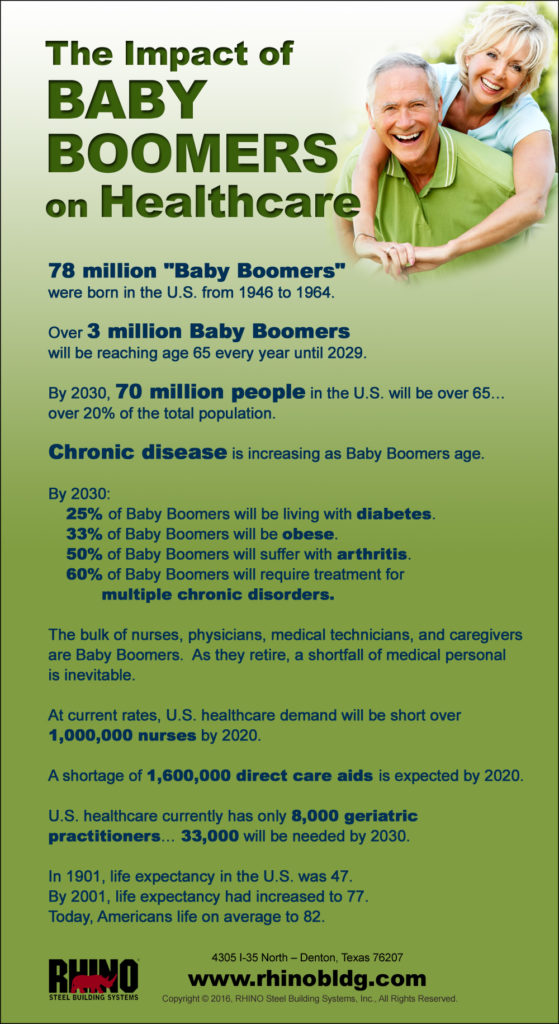 SHIFTING LOCATIONS: One of the most mobile generations in history, many baby boomers plan to move to pleasant climates at retirement. The number of retirees changing location will shift healthcare facility needs dramatically in states like Arizona, California, Florida, North Carolina, and Texas.
PSYCHOLOGY of BOOMERS: More technologically savvy than their parents, boomers embrace new advancements quickly. They are comfortable using the Internet to research their health issues. They tend to take a more hands-on approach to their own health than previous generations. Boomers want to know more about their healthcare providers and facilities. They expect to play a more active part in their medical treatment than their parent did. Boomers expect convenience. They are less inclined to drive long distances for specialty care. Boomers favor neighborhood physicians, clinics, diagnostic centers, and treatments facilities.
Baby Boomers Drive the Market
Aging boomers will force medical offices and healthcare facilities to become more efficient, technologically connected, and readily available. Medical buildings, fitness centers, testing labs, dental and doctor offices, pharmacies, physical therapy facilities, and other healthcare facilities will most certainly be required in the coming years.
Our next blog will discuss the advantages of pre-engineered steel buildings for the low-rise medical building market.
Call RHINO Steel Building Systems' number— 940.383.9566— for information, with questions, or for quotes on prefabricated metal buildings for healthcare, home, business, or industry.