How Metal Buildings Save Money After Construction
Pre-engineered metal buildings are economical for almost every low-rise construction project.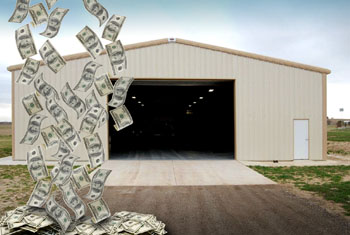 Practical and affordable, prefabricated steel buildings cut costs on every phase of construction.
However, that is just the beginning. Savings continue over the lifecycle of a steel building. Read below to discover the many benefits of steel construction.
1.

Reduced Insurance Rates for Steel Buildings
Steel structures resist damage from high winds, earthquakes, snows, heavy rains, termites, wood ants, vermin, fire, lightning, and mold much better than other construction materials. Consequently, most insurance companies offer substantial discounts on rates for buildings framed with commercial grade steel.
2.

Big Energy Savings with High-Grade Insulation
Metal buildings used for agriculture, storage, aviation, warehouses, and garages may not require heating and air conditioning in milder climates. Of course, that is the ultimate energy savings.
However, commercial, industrial, institutional, and residential buildings where people work or play need climate control systems. For these structures, steel framing works especially well.
Deep wall cavities in a pre-engineered metal building allow room for thicker, more energy-efficient insulation. RHINO's Pro-Value insulation package includes a choice of 6" to 12" thick batt insulation, thermal break insulation, plus an extra-strong vapor barrier. The Pro-Value insulation system typically slashes utility bills as much as 50%.
Choosing optional cool-coated roofing panels reduces summer energy expenditures another 7%-15% in extremely hot climates. (Cool-coated panels are not recommended for areas with brutal winter weather.)
3.

Low Maintenance on High Quality Steel Buildings
Whether you choose an exterior of strong steel panels, brick, stone, tilt-up concrete, or a combination of these finishes, the exterior of a steel building requires little maintenance. One of the benefits of steel construction is there is no need to paint every few years as there is with a wood exterior.
Americans spend $5 billion annually for termite control and the repairs for termite damage. Steel is termite and rodent resistant, so there is no need to treat with harsh chemicals on a regular basis. Since termites cannot make a meal of steel, a metal building never requires the thousands of dollars of repairs voracious, sneaky termites inflict on unsuspecting wood structures. And most property insurance policies do not cover termite damage.
Removing stubborn mold is an expensive building repair. As an inorganic material, steel does not support mold, mildew or other fungi growth. Steel framing does not rot, warp, split, twist, or creep like wood framing does over the years. In a wood-framed structure, nails back out and the structure becomes loose over time. Sheetrock cracks. Roof ridges and overhead door openings sag. Windows and doors refuse to close properly.
A pre-engineered steel building goes up straight and plumb— and it stays that way for decades of trouble-free service.
4.

Fewer Foundation Problems over Time with Metal Buildings
Because a steel building requires far fewer pieces of framing than wood, there is less weight on the foundation. Less weight means less settling and therefore less chance of costly foundation problems down the road.
5.

Less Expensive Remodeling on Steel Buildings
If expansion is required later, pre-engineered steel buildings make remodeling easy and quick.
Enlarging the building at either endwall is simply a matter of ordering more frames to match the original structure. Adding additional space on the sidewalls just requires another steel structure adjoining the original building.
6.

Steel Buildings Retain Their Value Longer
Quality metal buildings retain their original beauty and value exceptionally well.
Steel buildings stay straight and true for decades. Plus, the stronger connectors used in RHINO structures will not work out as nails used in ordinary wood structures do.
The sturdy steel wall panels and roof panels come with a 30-warranty. RHINO's buildings all include a Letter of Certification and Engineer Stamped Prints stating that the framing will meet or exceed the design loads required— for the lifetime of the building.
7.

Sell the Steel at the End of the Structure's Lifecycle
Whenever a steel building reaches the end of its usefulness, sell the framing scrap to be recycled again. Steel can be recycled endlessly without losing any of its strength or original properties.
Call 940.383.9566 today for more details about the money-saving benefits of RHINO's Steel Building Systems.
You might also enjoy these RHINO blogs: