Do-It-Yourselfers Cut Costs on Metal Building Construction
You learned in our last blog that the best way to save money on a steel building is to keep the design as simple and box-like as possible.
The second-best way to keep building costs to a minimum is do as much of the construction work as possible yourself.
How Do-It-Yourselfers Save Money on a Steel Building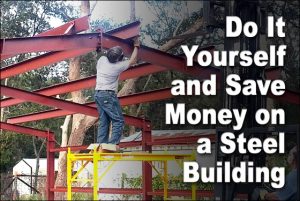 Pre-engineered metal buildings are already the most cost-effective construction method available today.  However, budget-minded buyers revel in knowing they can also save money on a steel building by doing their own hands-on construction.
One of the real beauties of a prefabricated steel building kit is the simplicity of its construction.  Every framing component arrives cut, welded, punched, marked, and ready to assemble.  Confident do-it-yourselfers often choose to erect the framing kit themselves, with the help of a few friends.
Small-to-medium-sized projects should present no problem to anyone with previous construction experience.  However, before you decide to tackle assembling your own DIY metal building, we suggest you review the following resources from RHINO:
New HyperBuilt Series: The Perfect Do-It-Yourself Project
Are you a do-it-yourselfer looking for the ultimate easy-to-assemble metal building kit?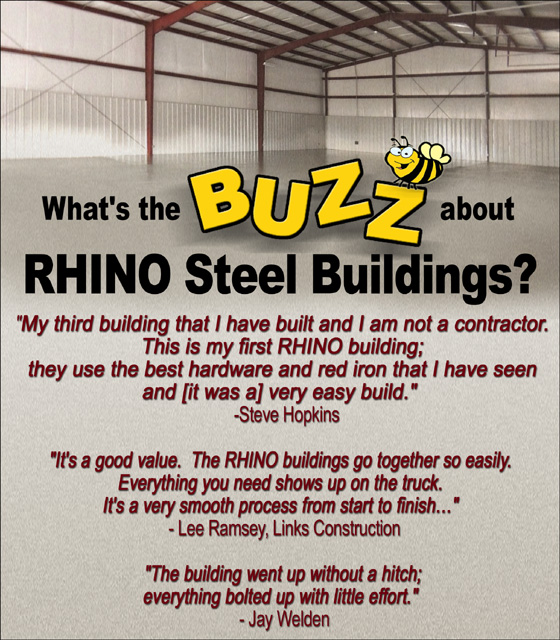 Look no further.
RHINO now has another way to save money on a steel building.  Our new HyperBuiltTM Series delivers simple, basic kits from 480 to 1,560 square feet— in as little as two weeks!
The eight basic HyperBuiltTM packages offer the most square feet for your construction budget.  However, you may also choose to add custom touches like gutters, wainscoting, condensation barriers, additional wall openings, or higher wind loads.
Do you want to know more about our original RHINO Steel Building Systems or our new HyperBuiltTM Series?
Call us today at: 940.383.9566.
Discuss your project with a knowledgeable DIY metal building specialist. Ask questions, get quotes, and learn more about how to save money on building costs. Discover The RHINO Difference in steel buildings!
Don't miss Part One and Part Three of this series with more tips on how to save money on a metal building.