Pre-engineered Steel Buildings as Vacation Getaways
Have you ever considered using a metal building for a lake cabin or vacation home? Many people now choose pre-engineered steel buildings to frame lake cottages, hunting cabins, and vacation hideaways.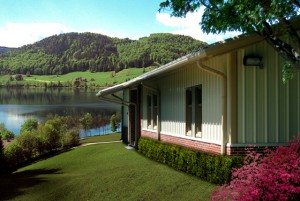 Many benefits make prefab metal cabins overwhelmingly popular for commercial structures. Vacation homebuyers want the same advantages for their homes-away-from-home.
Why Choose a Metal Building for a Lake Cabin?
These are just a few of the reasons steel buildings work very well as second home or as metal cabins:
FLEXIBLE Floor Plans:  Clear span steel buildings create a self-supporting exterior. Load-bearing interior walls are not necessary in a pre-engineered metal building. Enjoy total floor plan freedom. The interior is completely up to you. Find plans you like or sketch your own plans. Follow the floor plan exactly— or adapt it on the fly as you build.
DURABLE Structure:  Steel buildings last much longer— and retain their value and appearance decades longer— than wood structures. Our steel cabin kits offer a better long-term investment.
EASY Maintenance:  You want a place to escape the frantic pace of daily life— not another home needing constant repairs. Steel prefab lake cabins and vacation homes require almost no maintenance. Your free time is yours to enjoy.
AFFORDABLE Upkeep:  You also do not need a second home continually draining your bank account. Lower maintenance, lower insurance, and lower utilities save you a bundle in operating costs over the lifetime of a vacation home. In fact, RHINO's Pro-Value insulation package cuts heating and cooling in its metal cabin kits by as much as 50%.
DIY's Dream:  Are you the do-it-yourself type? Then you may decide to erect your own leisure lodge shell, with the help of a few friends. A pre-engineered steel building for a lake cabin needs no cutting, welding, and no drilling. The framing pieces of our metal cabin kits arrive ready to bolt together quickly and easily. Even if you decide to have the metal cabin framing erected by professionals, you can still save by finishing the interior yourself. Use either light-gauge steel or wood to frame purchased locally for interior walls. (Check with your insurance agent to see if using lumber will increase your rates.)
MULTIPLE Benefits:  Using a metal building for a lake cabin reaps the same rewards commercial building owners appreciate in their steel commercial structures:
Unmatched protection against, snow, hail, rot, mold, termites, fire, lightning, wind, and even earthquakes.
Simple end wall expansion if needed later.
Absolute freedom over exterior appearance. Choose beautiful, long-lasting steel panels, brick, stone, stucco, glass, log, rustic wood, or any other exterior steel building facade. (Again, check with your insurance agent on how your non-steel choices will affect your premiums.)
Assurance that all RHINO structures meet— or even exceed— all local building requirements and loads wherever you build in North America.
Making the environmentally responsible choice, by using the steel, the most recycled material in the world.
Refresh, Relax, and Recharge with a Steel Building Vacation Home
For complete details about choosing RHINO steel buildings for your cozy and comfortable cabin in the woods, please call a RHINO metal building specialist. They will help you select the right product to create the vacation home, lake cabin, hunting lodge, or camp cottage of your dreams.
Please call today at 940.383.9566 to get help mocking up metal building house plans.