Why Metal Building Sales Are Humming in the Beehive State
Like the state itself, steel buildings in Utah are variable.
One definition of the word "variable" in the "Merriam-Webster Dictionary" is "having many uses or applications." That is certainly true of Utah— and of pre-engineered steel buildings.
Endless Contrasts, Endless Possibilities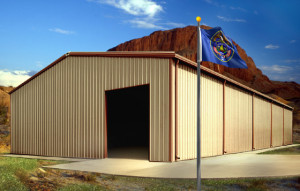 Utah has it all.
The state encompasses an incredible diversity of scenery. Deserts, forests, plateaus, mountains, rivers, canyons, and valleys dot the landscape.
Residents and visitors ride in the hoof prints of countless Western movie stars across Monument Valley. They swim in the Great Salt Lake, ski in the tracks of Olympians, or camp in breath-taking National Forests.
The variety of Utah's lands creates economic diversity. Agribusiness, ranching, mining, oil and gas drilling, manufacturing, tourism, forestry, commercial enterprises, and service industries all earn a place in Utah's economy.
This diversity of businesses requires a vast variety of building styles. Only pre-engineered steel buildings or metal sheds in Utah provide the durability and versatility to serve such divergent needs.
Steel Buildings in Utah: Advantages Unmatched by Other Building Materials
Prefabricated metal buildings work perfectly for so many applications. Steel buildings in Utah provide:
UNMATCHED VERSATILITY: No other low-rise building system beats the versatility of RHINO's pre-engineered metal building system. RHINO's steel structures can be 20' to 480' wide. Building lengths are unlimited. Standard eave heights from 8' to 40' tall are standard. (Taller structures require a custom quote.)
UNMATCHED AFFORDABILITY: The purchase price of metal sheds in Utah is very economical. However, the price is just the beginning of the savings.
Pre-engineered steel buildings ship in only 4-7 weeks. The kit arrives ready to assemble. Construction time for a pre-engineered RHINO building is about 33% less than other building methods.
The Pro-Value Insulation Package available from RHINO lowers utility costs by about 50%.
RHINO's steel buildings in Utah require little maintenance, cutting operating costs. Our commercial-grade steel system generally rates big discounts on insurance, for more savings.
UNMATCHED STRENGTH: Steel's strength-to-weight ratio trumps any other building material. RHINO buildings meet or exceed every local building code in the state. RHINO metal sheds in Utah deliver unmatched protection from winds, snows, lightning, fire, termites, and seismic events.
UNMATCHED DURABILITY: Steel buildings stand strong, straight, and true for decades longer than other types of structures. Metal sheds in Utah outperform and outlast other building materials. Steel buildings retain their value longer, too.
UNMATCHED RECYCLABILITY: Metal sheds in Utah promote green building. Steel is the most recycled material in the world. Why? Steel can be recycled endless times without losing any strength. No other material can make that claim.
At the end of its usefulness, sell the steel framing as scrap, to be recycled again.
RHINO's steel buildings in Utah contain up to 90.7% recycled steel.
RHINO Metal Buildings in Utah for Increased Efficiency
Utah is known as the "Beehive State," because the people place great value on productivity. Like the bee, they keep busy, making the most of their time and resources.
The faster delivery, easy of construction, greater durability, exceptional versatility, and easy expandability of pre-engineered steel buildings make them the perfect solution for every low-rise application. From Provo to St. George, from Salt Lake City to West Valley City, from Orem to Ogden, RHINO metal sheds in Utah make the grade.
RHINO steel buildings provide the most "bang for the buck" for all types of metal buildings in Utah:
• Agribusiness barns and structures
• Aircraft hangars
• Churches
• Commercial buildings
• Equestrian stables and riding arenas
• Industrial and manufacturing facilities
• Medical buildings
• Municipal buildings
• Offices
• Oil and gas structures
• Recreational buildings
• Residential homes, workshops, garages, and storage buildings
• Retail operations
• Storage buildings
• Warehouses
How May We Serve You?
Do you have a building project in mind? Call a RHINO steel building specialist to discuss using our steel building system on your next project in Utah.
We would be happy to tell you more about our company and our products. Our experienced team can offer suggestions and a free quote for any building project in Utah— or anywhere else in North America.
Please call RHINO today at: 940.383.9566 for more details.