After the Storm: Disposing of the Mountains of Rubble
The amount of disaster debris heaped up by tornadoes, hurricanes, floods, and other natural calamities boggles the imagination. As south Texans muck-out the mess left by Hurricane Harvey, they can sympathize with the Floridians facing Hurricane Irma clean up.
Following a catastrophic event, victims of the storm are at first shell-shocked. Little by little, reality sets in and they begin the overwhelming job of sifting through the ruins of their homes and businesses. They start by just putting one foot in front of the other and facing the task at hand. After all, rebuilding their lives cannot begin until the rubble of the past is removed.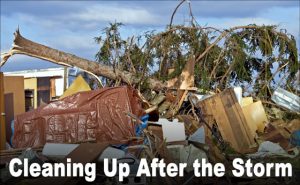 But what happens to the great heaps of sodden sofas, mattresses, clothing, electronics, books, housewares, memories, and broken dreams?
Houston's Daunting Disaster Debris
Experts estimate the drenched disaster debris inflicted by Hurricane Harvey will top eight million cubic yards in Houston alone. With over 200,000 homes and countless more business damaged or destroyed all along the Texas coast, collecting all the curbside rubbish could take months.
On top of the personal belongings destroyed, there is also the ruined building debris, such as soggy carpeting, drywall, and insulation. All of these items must be ejected quickly to avoid serious mold problems that might make the home or business uninhabitable.
Meanwhile, mountains of trash sit moldering in the sun, creating a foul-smelling health hazard.
The monumental task before hurricane-ravaged Texas and Florida municipalities seems insurmountable. However, with determination, patience, hard work— and FEMA's financial support— it is a job that will be done.
Rebuilding with RHINO Steel Building Systems
After the fury of Harvey and Irma, many structures will need to be replaced entirely. When planning the best way to rebuild, consider the advantages of pre-engineered steel buildings.
RHINO Steel Building Systems stand up to Mother Nature at her worst. These durable, sturdy structures have built-in resistance to earthquakes, hurricane-force winds, heavy rains or snows, termites, and fires.
Wood framing soaks up moisture in a flood. The waterlogged lumber not only promotes mold, but also warps and twists as it slowly dries. If left in water too long, the wood will actually rot, damaging the structure even more.
Steel does not absorb water like wood. Steel never warps, twists, sags, or rots. The corrosive-resistant paint used in pre-engineered steel buildings protects red-iron steel, keeping steel structures strong. Simply wash and dry steel framing after a flood to remove any corrosive residue, and the framing is good to go.
Moreover, as an inorganic material, steel never supports mold— a huge plus in flood-prone areas.
The fire-resistant qualities of our commercial-grade steel buildings earn big discounts on most insurance premiums, too.
For more details about the advantages of building with steel, please call RHINO at 940.383.9566 today. You can also download a RHINO brochure, design your own steel building, or get a quick quote online.