Why Standing Seam Roofing Graces So Many Steel Buildings
Strong, sleek, and attractive, a standing seam metal roof promises that rare combination of form and function. Standing seam steel roofing looks better, lasts longer, and provides superior waterproofing.
What is Standing Seam Roofing?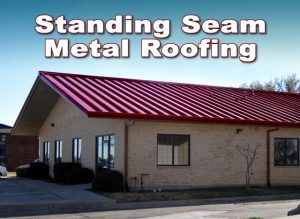 Standing seam roofing is ingenious, really. It allows the roof sheathing to attach to the structure without screws piercing the steel sheets. High-strength metal clips fasten the steel roof panels securely to a steel building's purlins beneath the panels.
Does Standing Seam Roofing Cost More?
Metal roofing and sheathing thickness is measured by gauge. Contrary to what you would expect, the lower the gauge number, the thicker the panel. Steel roof panels generally come in three basic sizes:
29-Gauge: This is the thinnest and flimsiest metal sheathing. Some companies market it as "economy" sheathing. Don't fall for the hype. Avoid it.
26-Gauge: Quality-conscious metal building companies like RHINO Steel Building Systems provide thicker, stronger 26-gauge steel roof panels. Purlin Bearing Roof (PBR) panels—like those used by RHINO on all standard orders—are the stronger, preferred shape. Other metal building companies may substitute cheaply made R-panels.
24-Gauge: RHINO offers high-quality standing seam roofing as an optional upgrade. Thicker panels are stronger, stiffer, and contain more steel will cost a bit more. However, for many buyers the advantages far outweigh the difference in cost.
Why Choose a Standing Seam Metal Roof?
According to the American Iron and Steel Institute (AISI), standing seam metal roofing now crowns almost 50% of all new commercial and industrial low-rise steel building projects. Clearly, this steel roof system offers significant advantages.
STRONGER: At 24-gauge, a standing seam roofing provides the thickest, strongest choice in metal roofing.
SAFER: The strength of a standing seam roof offers the best protection from hail and wind damage. With no exposed screw heads, this type of roofing sheds rain, snow, and ice more easily than standard metal roofing. It is also less prone to ice dam problems. The non-combustible qualities of steel make metal roofing more fire resistant than wood or asphalt roofing, often reducing insurance costs.
LEAK-PROOF: If a metal roof leaks, it is usually where a screw penetrates the sheathing or where two panels meet. With this system, the seam between two panels stands above the roof deck, eliminating seam leakage. On a standard metal roof, a screw tightened too much or too little can leak. With no screws breaching the panels, a standing seam metal roof offers the ultimate waterproofing system.
BEAUTY: The bold appearance of a standing seam roof appeals to many people. Architects love the crisp, clean lines afforded by the rigid seams—and the vibrant color choices—that add "pop" to their designs.
LONGEVITY: When correctly installed by experienced metal roofers, a quality-made standing seam metal roof should last as long as the structure it protects— far longer than wood or asphalt shingles.
HASSLE-FREE: Standing seam roofs require little maintenance. There are no exposed screws needing periodic tightening, no screw heads to catch dirt and debris, and no screws to cause rust or corrosion. A quick wash once a year should keep the roof sparkling like new.
GREEN: The high recycled content of these eco-friendly steel roof panels make them perfect for green building projects. At the end of its lifecycle, all steel roofing recycles again to live on in new steel products.
When Quality Matters, Call RHINO
RHINO offers top-of-the-line 24-gauge standing seam metal roof panels as an upgrade on our steel buildings. The panels and fastening clips ship directly to the job site with the steel framing.
Choose from an array of eye-popping colors to match or contrast with your RHINO metal building. Learn more about standing seam metal roof costs, coatings, and colors for your new RHINO steel building by speaking with one of our metal building specialists. Call RHINO at 940.383.9566 today.